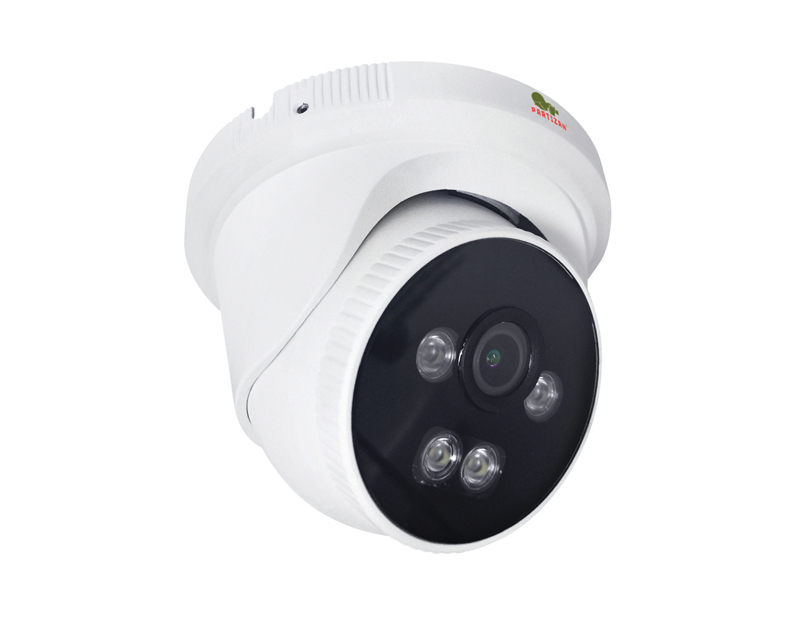 This is a full colour 24/7 dome camera with the 1/2.7″CMOS sensor, featuring hybrid IR+White LED and resolution of 5.0 megapixels. A black and white image is viewed if nothing going on and then the camera switches on white LEDs for a colour image with a wide viewing angle.
The infrared and white LED light of the camera can hit a distance of up to 30 metres at night. The camera has two types of power supply: via 12V by the regular power supply unit or via POE by data cable. This model maintains its functionality at a temperature from -40 to +60°C it has protection against humidity and dust, so can be mounted both inside and outside.
Getting started
Within the box you are supplied with a pamphlet that provides technical information on the camera but nothing is provided in terms of mounting or installation instructions. On the box and within the box you are given access to a QR code that takes you to Partizan's software centre where you are able to download Partizan's desktop and mobile software.
Partizan provides a good "How to" section on their website under the camera that provide diagrams and videos that will help with installation and setup.
Using the Partizan software which can be downloaded from their website, it is straight forward to find and configure the basic functionality of the camera and obtain an image. Similarly, if this camera is used on an NVR, as it is an ONVIF camera it can be easily used across multiple manufactures.
This being said, the Partizan software when downloaded does not automatically configure to the screen resolution of the laptop. During testing it was found that some of the applications for example the configuration tool became too large to operate and unable to reduce the size of the application window without connecting to an external monitor.
Performance
The overall performance of the camera was good. In daylight, the image provided from the camera was very clear and with Partizan's Starlight technology it meant that colour pictures could be maintained down at low lux levels. It also meant that a clear coloured picture could be maintained at a low lux level with only slight image graining. The Partizan starlight camera incorporates two LED functions, IR functionality and white light LEDs.
Read the full review in the October 2021 edition of PSI magazine