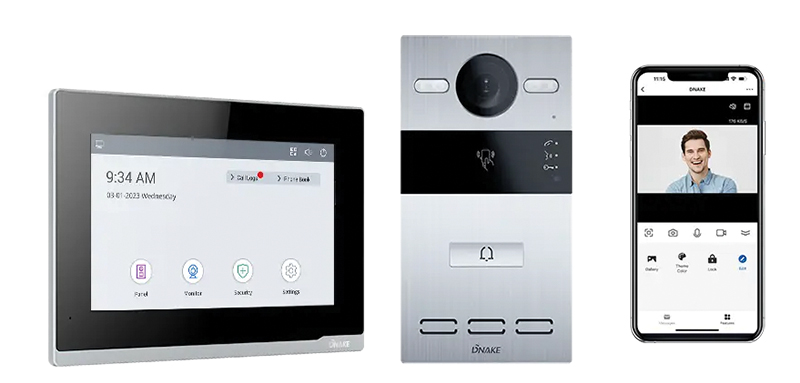 The Dnake IPK03 is a video intercom kit comprising the E216 7" capacitive touch screen internal monitor and an S212 door station. All fixing brackets and mounting accessories are included. Both items can be PoE or 12v powered and use wired network connections for communication. Single button calling and remote mobile connection is supported with remote unlocking. Up to eight ONVIF cameras can also be connected. The door station includes a card reader, has an IP65 rating and is IK08 impact rated.
Getting started
The two devices can be simply connected to PoE enabled switch ports and the monitor screen starts up in its basic programming mode, this first requests the language setting (English default) and then confirmation that this is the first (Main) monitor on the system. The next page is for IP configuration; DHCP can be turned on here or the IP address can be changed from its 192.168.68.91 default to a suitable alternative. The next stage is to synchronise with the door station. A drop-down box shows the MAC address of any available door stations and once selected, you can 'Sync' to this unit. The final stage is to select DHCP or provide IP address of the door station followed by naming the unit (up to 10 characters). During this stage the image from the door unit camera will appear for a short duration before timing out.
Once completed you can add an additional door unit or finish the setup. A pair of QR codes are presented allowing Download or Adding a Smart Life App to your mobile device with a 'Skip' option below. The Smart Life app requires a free account sign-up and can control additional home automation devices.
An NTP time reference server connection is set by default, but the region is set to UTC +08:00 so this and the general date display format should be changed for UK operation. Flexible daylight-saving time dates can be set.
Due to its relatively small size, the door station has very small connectors. These are placed either side of a central RJ45 network socket and each consist of 8 x push-release terminals. Functions are identified by very small legends on the circuit board, but these are largely obscured once the RJ45 connector is in place. These provide on the left the 12v supply in, Weigand connection, and two alarm inputs. The right-hand block is for RS485 and the two alarm output relays with both NO and NC connections presented.
As the connectors are mounted on the device on the insecure side of the building, care and additional security measures must be taken if using the door station for remote door release. A tamper switch on the back of the unit can be enabled to raise an alarm.
The door station has dimensions of 168 x 88 x 34 and a stated power rating of 3.5W (1.5W standby), measurement suggested just 2.6W with illuminators on and 1.1W standby.
The viewer is 195 x 130 x 14.5 with a stated power demand of 9W (1.5W standby) with measured results of approximately 2.5W operating and 0.8W standby. An eleven-way connector on the viewer can be used for 12v input and source (100mA max), relay output and RS485 connectivity.  A ten-way connector is used for eight alarm inputs that can be allocated to alarm or doorbell functions.
Both devices are designed to fit onto standard 2-gang electrical wall boxes using the supplied brackets.
Read the full review in the November 2023 edition of PSI magazine