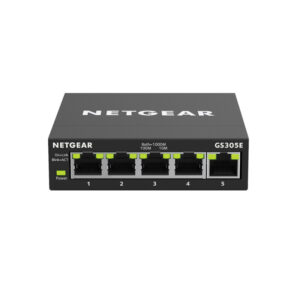 The GS305E is a 5-port Gigabit Smart managed SOHO switch at an unmanaged switch price. It is from the 300 range that includes 8-port and PoE+ variants. They include flexible VLAN, QoS and IGMP Snooping features with local and remote management. Five-year warranty and 90-day free technical support available for registered products.
Getting started
The unit will operate as a basic switch straight out of the box and can then be configured using its browser interface or the Netgear Insight app.
The supplied power supply is a UK plug-in style unit with an input from 200-240v AC and 12v DC output at up to 1A. Two "T" shapes blanked slots in the base allow the switch to be wall mounted using the supplied screws and wall fixings.
DHCP is enabled by default, otherwise its static address is initially set to 192.168.0.239. The Netgear Switch Discovery Tool can be downloaded from the Netgear website, and this will identify any Netgear devices on your network and allow you to access their admin page from an on-screen button if they are on the same subnet. The Insight app is available on the iOS and Android stores and will discover any Netgear products on a wireless enabled network. It then requires you to set up an account, register the product(s) and then they become available for remote monitoring and management.
The short Installation guide provides sufficient information to get started, but comprehensive information and downloads are available from the Netgear.com website.
At first connection, the browser accepts the simple default password and then forces a secure admin password to be entered. This must be from 6 to 20 characters long with at least three-character types that can include some special symbols $, #, % etc. Following prompts to register the product which can be skipped or turned off, the device's main menu screen is displayed.
Menu options
The menu pages are well laid out with a horizontal ribbon holding the four main tabs with their individual features below. These main tabs cover, System, VLAN, QoS, and Help.
Performance
The device is compact at just 94 x 100 x 27 mm (W x D x H) and a weight of 0.25kg. Each port supports up to 1Gb/s connections with an overall bandwidth of 10Gb/s. In simple file transfer tests, the switch readily handled speeds in excess of 250Mb/s limited only by the receiving device.
Individual incoming and outgoing rate limits can be set for each port. The front mounted RJ45 connectors house two LEDs, with both used to indicate 1Gb/s connections traffic or just the left for 100Mb/s or the right for 10Mb/s. All ports support 1Gb/s connections.
Read the full review in the October 2023 edition of PSI magazine