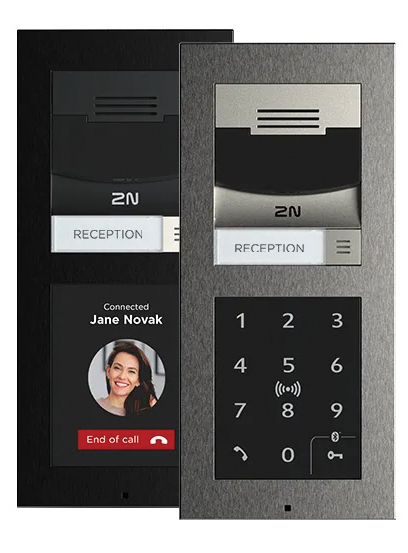 The supplied door unit consisted of a two-module housing with an HD camera module and a touch-screen keypad with integral Bluetooth and RFID reader. A separate surface installation frame is used to provide protection to IP54 with an IK08 impact rating (IK07 for display). This updated 2N product maintains compatibility with the original Verso range but provides upgraded features including a wide dynamic range HD camera and with extended capabilities due to the use of the ARTPEC-7 processor produced by parent company Axis.
Getting started
The door unit is PoE enabled but can be fed from 12v DC and a standard network connection port if necessary. Power demand is 12.95W maximum. In operation this was noted as approximately 5.5W in normal daytime operation increasing to 8.3W with IR illumination in night mode.
Connections are at the bottom of the camera module with RJ45 at the left, then a 3-pole connector for Ground, and Input 1, then 2-pole connectors are used for Out 1, 12v, and Relay. These screw terminal connectors are removeable but quite small so a 2.5mm terminal driver is preferred. After LEDs for Power, Service and LAN status, a 5-way connector feeds the VBUS to the touch keypad. Line Out and Microphone miniature connectors complete the set.
An optional security relay module is available to ensure the lock cannot be compromised from the standard lock relay being on the insecure side of the door.
An RTSP stream can be enabled, and password protected for monitoring or recording on third-party systems.
The IP Verso 2 uses SIP (Session Initiation Protocol) to communicate with devices. It is compatible with a wide range of PBX systems from the likes of Cisco, Avaya, and BroadSoft etc. A good understanding of telecommunication principles is required and is assumed in the support documentation.
A range of on-line training modules are available on the 2N website. These can be selected to become a 2N Certified Installer.
Read the full review in the September 2023 edition of PSI magazine