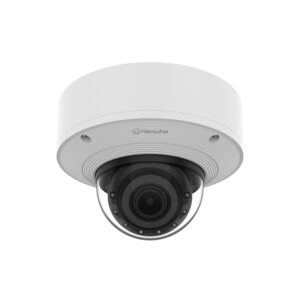 The PNV-A6081R-E2T dome is a 2MP ruggedised external dome with integrated 2TB SSD storage capability. It has high sensitivity and includes IR illumination. It is NDAA compliant and rated as IP67, IK10 and NEMA4X.
Getting started
The camera is intended for PoE+ operation but can be 12v powered if required. A suitable screw-terminal connector is provided. Once connected the camera runs through a short setup and lens calibration routine and then is available for configuration.
The simplest way to find the DHCP enabled camera on a network is to use the Hanwha Wisenet Device Manager software that can be downloaded from their support site. This quickly finds all Hanwha compliant devices and can be used to open the camera web interface.
The 180 (Ø) x 130 (h) mm dome housing and base plate are packaged separately to the dome module with the SSD storage device mounted in the base and connected by a 20-way dual in line socket, so the camera must be installed into this for full system configuration. The camera assembly is held in place in the base by strong magnets; a pull cord is provided for ease of removal. Grommets in the base allow for network and optional alarm / audio and power cabling feeds.
The supplied video lead can be used to take a composite video output from the device for installation field of view confirmation, this can be switched from its default NTSC setting to PAL mode.
The SSD module is a Transcend MTS952T2, 2TB ruggedised device which has a 6Gb/s Sata3 interface. The system allows configuration of the SSD as Wisenet Wave storage for up to five additional cameras with a total bandwidth capability of 33Mb/s but this may inhibit some AI capabilities. The Wisenet Wave VMS has licensing options for Servers, Desktop and Mobile devices with synchronisation through their cloud service to build resilient secure video networks.
The dome is compliant with ONVIF profiles S, T & M and readily connected to a third-party NVR.
Read the full review in the August 2023 edition of PSI magazine