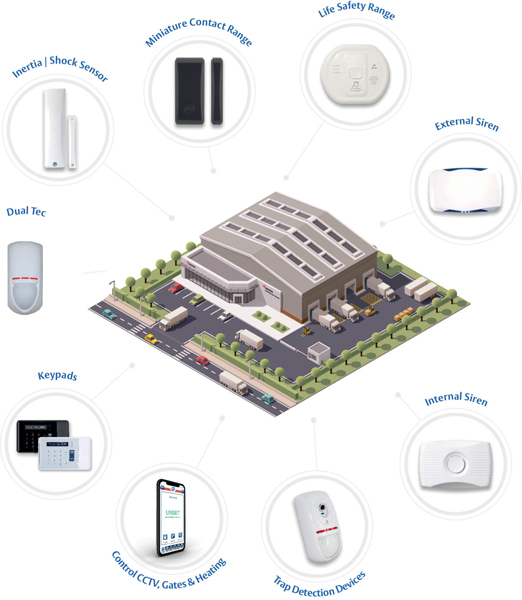 Over the last 20 years, we've seen the security industry dramatically evolve. Largely spearheaded by advancements in technology, security systems have become more sophisticated than ever. Additionally, customers expect shorter installation times and a greater level of control over their new security system. The variety of security devices available for residential and commercial premises has grown exponentially and numerous apps have emerged to support both customers and installers. Here HKC Security give us their answers to "what three key ways security systems have changed in the last 20 years?"…
Growth of Wireless Technology
In the early 90s, wireless systems had a very poor reputation and were not widely used. Over the last 20 years, the technology has become far more stable and the wireless range of devices has significantly improved. Powered by radio frequency, wireless technology has undoubtedly made life so much easier for installers.
Wireless security devices have grown in popularity – especially in residential properties – due to their flexibility and fast installation times. These systems can be mounted to surfaces without needing to drill holes through walls or disguise any cables, making them a great choice for aesthetics.
Move to IP Communication
We've seen a monumental shift in security systems over the last two decades, a key one being the digital transformation from analogue communications operating over standard Public Switched Telephone Network (PSTN) lines to Internet Protocol (IP) and General Packet Radio Service (GPRS) communications.
Today, the majority of security devices can seamlessly connect to the internet and generate information which can be shared to enhance the performance of the security system. Security systems operating via IP communications can produce intelligent insights and data which can be quickly harvested and analysed to identify further improvements in security.
Apps & Cloud Technology
The move away from digital diallers to internet-based signalling has triggered an eruption of apps and cloud-based solutions. A wide range of apps are available for installers of security systems and for customers who purchase them. Alarm users now have the ability to control their security systems from anywhere, at any time, using mobile devices.
Professional security installers can use sophisticated apps to drastically reduce the number of site visits they make each week. Engineers can use specialised apps to remotely diagnose customers' security systems and perform basic maintenance tasks from the comfort of their workplace. Installer apps provide a holistic view of customers' sites and allow the installer to manage individual sites and even update security systems.
Summary
Over the past 20 years, security systems have evolved due to various advancements in technology and the emergence of new apps. As a manufacturer of high-end security devices, we're always looking for ways to improve our equipment and make the installation process easier for you. We regularly bring out updated versions of existing security devices and release new products to keep your customers' properties safe.