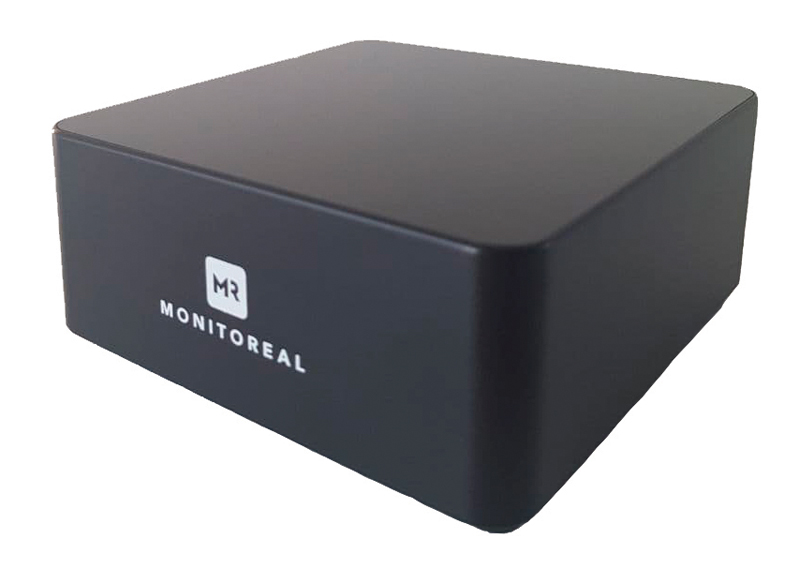 The Quick-Start guide describes the device as a Video Security Assistant. Up to eight cameras with a resolution up to HD (1920 x 1080) can be connected to each unit. It does not provide video recording but an analysis function to identify different subjects and to allow encrypted alerts to be sent out to mobile devices with snapshots of the event. All images are processed on the device with nothing sent out to "cloud" processing services. Received alerts are sent via specific secure messaging services.
Getting started
The device has connectors for power input (5v DC, 3A), an RJ45 network port and two USB ports. A small hole close to the power input gives access to a reset switch. Beneath the smoked transparent top panel is mounted a 16 x 8 red LED array that is used to provide various messages during start up and operation.
At power-up all LEDs illuminate for around forty seconds followed by a sequence of LED pairs moving through the display for around 15 seconds more, at which point an error or system started message is briefly shown before the display goes blank. After around two minutes from initial power the display scrolls the Ethernet address that the unit has picked up from a DHCP server. This IP address is then displayed every minute.
The MAC address identifies that the unit is based on a Raspberry Pi single board computer with an additional graphics processor unit for managing its video analytics. There is no access to the HDMI port so no start-up diagnostic information can be viewed.
Once established on the network a PC can be used to access the device's webserver at the specified address. A basic username and password are initially used and while the opening page advises the user to change this, it is not mandated, and the reminder remains in place.
The optional relay module has four mains rated single pole changeover relays and requires only a 230-volt AC mains input. It has its own Wi-Fi source, and this is used to connect to the Monitoreal via the settings options. A Wi-Fi search is used to show local signals and the Monitoreal Relay connection can be used along with a simple password to connect. The Monitoreal device must then be power cycled for the relay to be available to the system alerts.
Telegram is the recommended connection service, and this application can be loaded onto a laptop or mobile device. Setting up the Telegram account can be troublesome as it is a social media platform rather than security industry specific so many conventional usernames are already allocated, the Monitoreal website gives access to a video guide covering the basics of set-up. Once a 46-character token from the Telegram app has been entered into the Monitoreal alert page and the service enabled, a secure connection is made.
Configuration Options
Once connected via the browser you are first given an option to add cameras from the network. This can be by automatic search for ONVIF enabled devices or individually entered as RTSP stream commands. It appears that the automatic search simply uses the primary stream from any discovered cameras, and it will try to connect to cameras above 1920 x 1080 which is its maximum resolution so any such cameras will need to be connected using a secondary stream set to a maximum of HD. It was noted that with a connection made to a 4MP stream, the camera's main stream was affected by a periodic video level change once or twice a minute until de-selected. Many of the latest cameras may have ONVIF and RTSP connections inhibited by default so these will need to be enabled prior to search or manual connection.
Read the full review in the May 2021 edition of PSI magazine