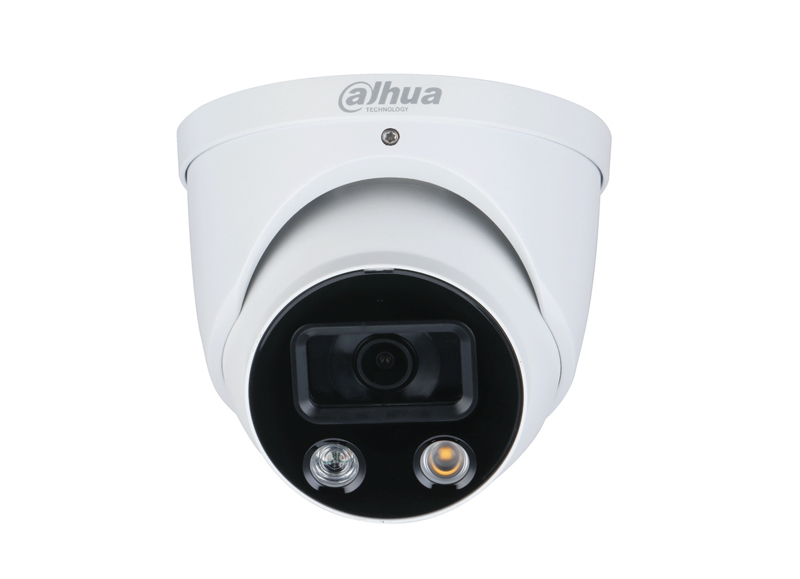 The DH-IPC-HDW3549H-AS-PV-S3 is a 5MP full-colour fixed-focal eyeball WizSense network camera. It is the latest in the company's TiOC (three- in-one camera) line which integrates 24/7 full-colour monitoring, active deterrence and AI into one solution. It is IP67 protection rated with a sturdy metal casing, with an operational temperature range stated as -40°C to +60°C. Optional junction box, wall, ceiling extender and pole mounts are available.
Getting started
The camera is PoE fed, 2.5W basic to 8.0W maximum with all lights and alarm sounder operational. Alternatively, the camera can be supplied with 12v DC at 2.5 to 7.3W.
The multi-way connector lead has an RJ45 network connector along with a 12v power jack, a pair of phono (RCA) sockets for audio in and out, and a four-way flying lead for alarm input an output and associated ground connections.
By default, the camera is not DHCP enabled and has an address of 192.168.1.108. This can be discovered on the network using the Dahua "ConfigTool.exe" program that is used to initialise the camera and set the required administration password. Once initialised, the camera can then be browser connected to set a suitable static IP address and begin configuration.
When first set to a UK location, the camera uses GMT, but Daylight-Saving Time dates can then be entered and the function enabled in System, General, Date and Time setting through the menu tree.
Just three fixing holes are required and an access hole for the cable feed of around 20mm. While a water-proof cover is provided for the network connection any unused connectors and cable must be suitably protected if installed in a location where water penetration is possible. The camera sphere can be manually panned, tilted, and rotated to suit the viewing angle for the mounting surface.
The camera can locally record to a micro-SD card of up to 256GB, to a NAS, or using Secure FTP and these can be recordings and / or snapshots by Schedule, Motion detection or on Alarm trigger. The card slot is readily accessible at the base of the camera globe along with a factory reset switch.
Menu options
The HDW3549 has a familiar Dahua web browser page with Main option tabs down the left-hand side of the window for Camera, Network, Event, Storage, System, and Information. The page can be called up with all major browsers including Microsoft Edge, Microsoft IE11, Google Chrome, and Mozilla Firefox. However, the IE11 browser gives top right-hand icons for Digital Zoom, Triple Snapshot, Record and Talk in addition to the Relay-out, Warning Light, Alarm, Snapshot, and Audio on all browsers.
The Camera tab accesses all video and audio settings such as Main and Sub stream settings, Day / Night illumination and profiles.
Read the full review in the November 2021 edition of PSI magazine