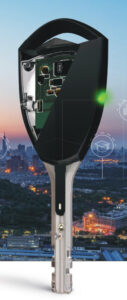 Abloy UK has been awarded a five-year contract with UK Power Networks valued at £2.5m to upgrade the current mechanical locking systems to a combined electromechanical and mechanical locking solution, for its high and low voltage distribution networks.
UK Power Networks own and maintain the electricity distribution network across South East England, the East of England and London.
Products specified include a mix of Abloy PROTEC2 CLIQ electromechanical and PROTEC2 mechanical padlocks and cylinders, which will be controlled and administered using the new CIPE Manager operating system.
It is estimated that Abloy will supply around 9,500 padlocks per annum, together with programmable PROTEC2 CLIQ Bluetooth Low Energy keys, enabling UK Power Network's system to be expanded conveniently in the future.