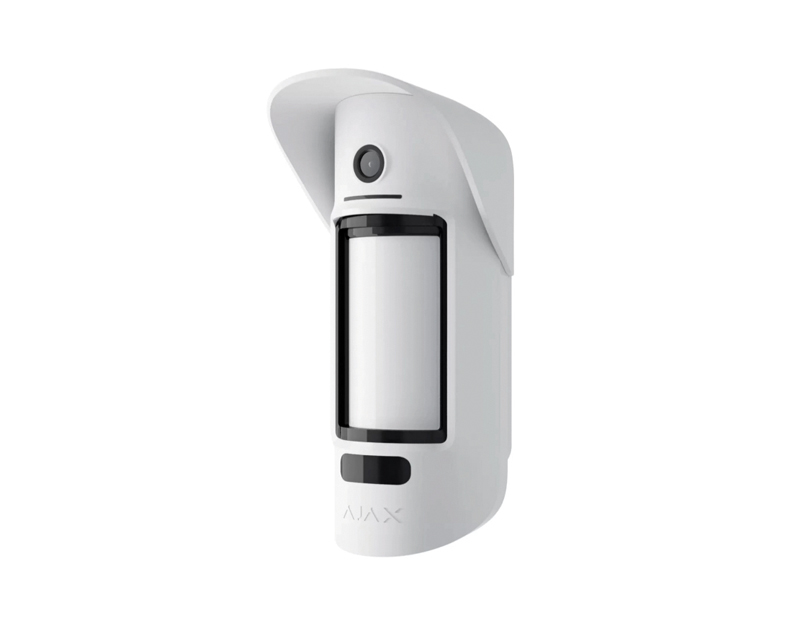 The Ajax MotionCam Outdoor is an IP 55 rated combined external PIR sensor with inbuilt capture camera for use with the latest Ajax Hubs that support visual verification.
Getting started
The Quick Start Guide gives very limited information, but detailed manuals can be downloaded from the Ajax website. Links and QR codes are provided for accessing this information and following installation are readily available through the app, for each device on the system.
The rear mounting plate slides off the unit and has four main mounting hole knockouts with an additional four in the bevelled sides in case of corner mounting. The tamper switch actuator is formed on a perforated section for one main and side mounting hole to ensure that the tamper is activated if the unit is prised from its wall mount.
The unit is self-contained with batteries pre-fitted and ready to go. With the latest version of the Ajax app available on either an Android or iOS phone or tablet the unit is added to the relevant Hub's device list using the "Add Device" option. When prompted you then enter a name for the unit and its unique reference number and allocate a room location. The unique reference can be entered by scanning the QR code on the rear of the unit if your mobile device supports this feature. Once the details are entered, turning the unit on starts the enrolling process that completes in a few seconds.
The proprietary "Jeweller" encrypted protocol is used for alarm communication with the additional "Wings" protocol (based on Jeweller) with its own dedicated antenna being used for the image transfer to the hub.
The recommended mounting height is given as between 0.8 and 1.3 metres. This is essential to ensure pet immunity and good human target capture.
Performance
It is important to mount the device at the right height to ensure accurate performance. Detection of Human targets is based on both PIR devices detecting movement and comparing results to match those of a human subject. Animals will only activate one of the two sensors, and so will not create an alarm condition.
The camera viewing angle is given as 105° horizontal x 50° vertical so ensures a sufficiently wide coverage to capture the full scene of the PIR's 90° capture angle.
The detector has settings for the image resolution and number of pictures sent on alarm. It supports either 320 x 176 pixels images (its default) or 640 x 352. At the lower resolution it can supply from 1 to 5 images of the alarm event and at the higher resolution up to 3 images.
Read the full review in the October 2021 edition of PSI magazine