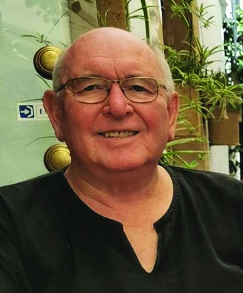 PSI has learned that security alarm industry legend Chris Brookes has passed away. Known to many for his roles at Scantronic and CSL his forward-thinking approach to security sales and business development made him an innovator of the sector.
Back in the 1970's, Chris Brookes was one of the people who took the global alarm system components industry into a new dimension. In 1978, then only 22 years-old, Chris created an embryonic business with fellow pioneer David Lineham in the back-bedroom of the Lineham house in Hillingdon, moving shortly to Wembley and then on to Perivale. Both worked at Sesco in West Drayton where they teamed up with David Snook, an RAF engineer, to develop the UK's first digital communicator. This was an immediate success and one of its first customers was a Danish company, who suggested that adding the word Scan when thinking up a name for the new company, would help sales. Scantronic was born.
The company's fresh approach was an immediate hit with the UK alarm industry and let to them being asked to develop alarm panels to match and rest is history.
We asked former colleague Tony Makosinski to tell us about how Chris changed the way security systems were brought to market:
"Chris was always ready to break convention if he felt that it was holding back the industry's development. One example of this was when having tried to break into the closed shop of French manufacturers, all controlling their own distribution chains and being rebuffed, Chris created Systal, a new national French distribution chain selling all types of products from a variety of makes and employed entrepreneurial managers to make it a success. This approach resulted in those original manufacturers knocking on the door and asking for their products to be sold via Systal.
"This approach was repeated in Benelux, Scandinavia, Italy and Spain and having achieved the market breakthrough for Scantronic products in each country, the distribution business was sold to Gardiners and this eventually became the basis of ADI's European business.
"After some stock market turmoil had affected the shares and Menvier acquired Scantronic in a hostile bid, Chris again showed his flair for identifying technology advances and market opportunities, he backed Simon Banks to create CSL and its success has proved how right his judgement has been."
Tony concludes: "Those of us who worked with Chris will always remember his business acumen; his ability to listen to a good idea and give you your head to try it; his loyalty to his team, but most of all, his wicked sense of humour. That often got us all into trouble with various authorities, but Chris would always smooth it out. Farewell Boss, it was great working with you!"