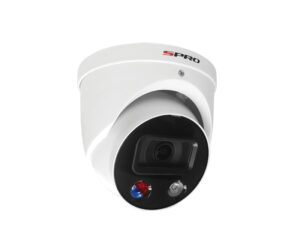 The SPRO DHIPD80 "Turret" style camera is an IP67 externally rated 8MP (4k) camera with a 2.8mm fixed lens, "ColourNight" operation and Active Deterrence capability. It has a built-in speaker and microphone along with external audio connection and alarm input and output. Available in Dark Grey or White finish with optional deep base and wall and pole mounting brackets.
Getting started
The camera is PoE fed (8.2W maximum, 3.5W basic) or can be powered from a 12v DC supply. In addition to the RJ45 network socket, connections are available on the multi-way connection lead for Audio In and Out on individual phono (RCA) connectors, flying lead alarm input and output and the barrel power input jack. A waterproof shroud is only provided for the RJ45 connector so the other connections must be suitably environmentally protected if likely to be exposed to moisture.
A supplied QR code label gives access to a website with copies of the Quick Start Guide and an Operation Manual. Additional software can be downloaded to provide Video Management and PC based NVR functionality.
Once powered up from a suitable PoE network port the camera must be initialised and then configured, DHCP is not enabled so the camera has a default IP address of 192.168.1.108. The quick guide suggests using "ConfigTool.exe" to locate and initialise the camera however this software is not provided and must be downloaded from a third-party site. Alternatively, the initialisation can be undertaken during the first browser connection if your PC is set to the appropriate subnet for the camera's default address. The camera could be accessed with all major browsers' but best performance was found with IE11.
The initialisation is straightforward beginning with Region and language setting, followed by Time zone details. This is then followed by the password entry screen that gives advice on format and an indication of security level with an e-mail option for password resetting. A P2P option is then given with a QR code for App download for remote connectivity plus a Firmware Auto-update option, these can be unticked if not required.
It was found that there was just a still image from the Main Stream display at first use, this was due to the use of H.265 compression being used by default. Changing to H.264 gave a correct live browser view. Sub Stream 2 is disabled by default so must be enabled if required.
 Read the full review in the July 2021 edition of PSI magazine