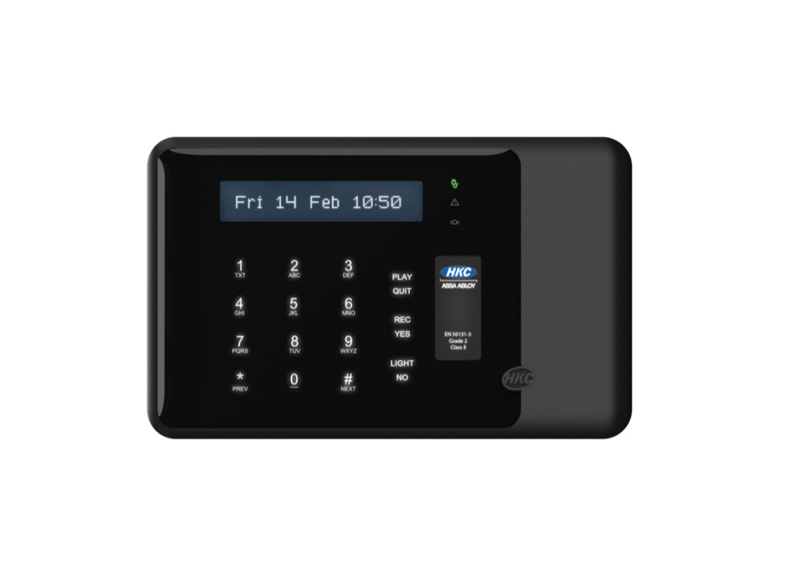 The RF-Touch wireless intruder keypad is one of the latest additions to the SecureWave product line. The keypad is produced in either a black or white finish and it can be supplied with optional replacement facia trims in black, white, chrome and grey. It is compliant with EN50131-3 Grade 2 Class II.
Getting started
Two captive crosshead screws secure the RF-Touch front panel to its back plate. Once released the front panel folds out through 90° giving access to the internals. The front panel can be removed from the back when angled at around 15° and pulled away with a reasonably sharp tug to overcome the resistance of the plastic hinge clips. The 115mm spaced main mounting holes allow suitable space for levelling the unit with an additional hole should pattress box mounting be preferred. In addition to a large cable inlet aperture there are five cable knockouts should a wired connection be required.
The unit is supplied with batteries fitted but with insulating tabs in place; removing these powers the unit up.
The keypad must be enrolled onto the system using the panel's engineering menu structure. Up to two wireless keypads can be used per system.
Performance
Simply placing a hand near to the keypad wakes up the display in a low intensity mode and this increases brightness with a press. The screen remains active for a few seconds but with external power supplied, the screen can remain active for a longer duration. Although using capacitive touch screen technology, the telephone style numeric keypad and additional functions are permanently printed onto the device so immediately identifiable for precise control.
Read the full review in the September 2021 edition of PSI magazine