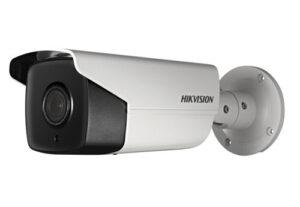 This camera is a high-end outdoor bullet camera identified as part of Hikvision's DarkFighter range. The supplied CD contains much general information on the wider Hikvision range and lists support documentation according to range as 2-Line IPC, 4-Line IPC, 6-Line IPC and Intelligent IPC so unless familiar with their notation it may take a little while to find the relevant manuals. Once found the 30-page Installation manual and 168-page User manual provide all the information necessary to quickly get the camera up and running.
Software is also provided on the disk; the first package SADP searches the network for relevant products and allows changes to IP addressing to be performed on discovered devices. On first access the camera requires the password to be changed from its default so it is helpful to have this defined prior to initial set-up, though it can of course be changed later. The second software package is iVMS-4200 video management software.
The camera browser window was initially opened on a Windows 10 PC with Microsoft Edge. This proved unsuccessful in loading the necessary display web-components but in fairness is not recommended in the manual, Mozilla Firefox on the same machine was fine. A PC with Windows 7 and Internet Explorer 11 also performed as expected.
Features
The camera offers very high sensitivity and 1920 x 1080p HD performance with pre-installed firmware to provide video analytic functions. These can be selected from options including Audio Exception, Defocus, Scene Change, Face, Line Crossing, Intrusion, Region Entrance, Region Exiting, Unattended Baggage and Object Removal Detection.
Alternatively, the camera can be switched to Road Traffic mode for vehicle licence plate detection.
The camera has a three-axis mounting arm and is supplied with a back-box for wall, ceiling or post mounting. A lanyard is fixed to the camera mount base for securing to a suitable structure.
A sunshield provides some protection but only has around 1cm of variation in its position.
At the front of the camera, around the lens, four high intensity IR LEDs are positioned, one in each corner. The top and bottom pairs can be changed in intensity to balance the scene lighting or used in Smart IR mode to prevent foreground flaring. A photo-sensor mounted beneath the lens is used to control the point at which the IR lamps automatically turn on.
From the base, connectors are provided for the Network (RJ45), Power (3 pin, 12v and Gnd), Alarm (4 pin, Gnd, In, A & B), Video (BNC), Audio In (3.5mm jack socket) and Audio Out (3.5mm jack socket).
While the power connector is marked as just 12v DC the Quick-Start manual suggests that 24vAC can also be used for external power, the generic user manual warns this is "depending on models", so care must be taken if using a separate power supply. PoE is also supported and was used for these tests.
A small cover on the base of the camera held in place by two cross head screws gives access to the Micro SD card slot (Up to 128GB) and a reset switch (which can only be activated when the camera is being powered up).
Menu Options
The camera can be configured using the remote option from the iVMS software or through an appropriate web browser. These give essentially the same facilities. The main browser menu options are for Live Display, Playback, Log and Configuration.
The Configuration menus are:
Local – this allows live viewing parameters to be set along with the location for any saved recording and snapshot files to be stored.
Basic – this has the essential options for System, network and Video configuration.
Advanced – provides a much more comprehensive set of commands to configure all aspects of the network communication, protocol and security settings. It is within this menu structure that all of the analytic rules are configured.
Performance
A range of tests were undertaken to assess the performance of the camera in low-light conditions and also to check its analytic capabilities.
Read the full review in the June 2016 edition of PSI magazine