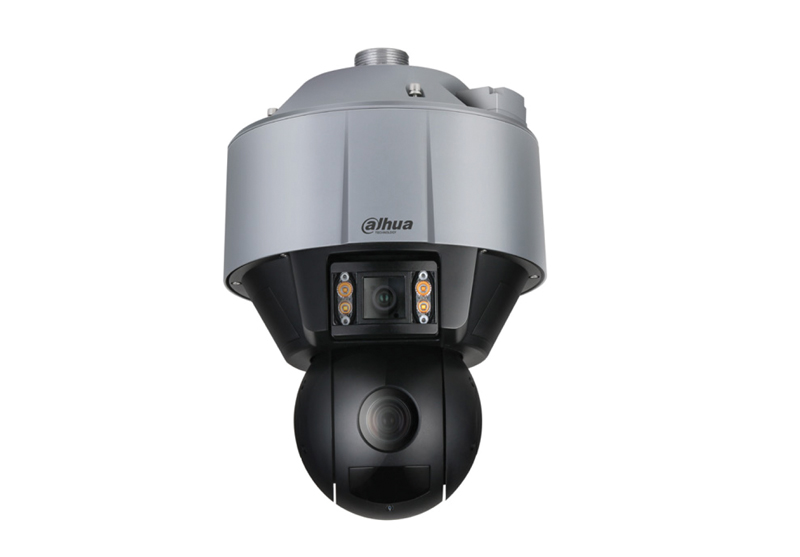 The DH-SDT-5X225-2F-WA-0600 is promoted as a 2MP Starlight IR Dual PTZ external network camera. It is from the Dahua WizMind range and is based on 2 x 1/2.8" CMOS sensors, one with a wide angle view and one with a 25x optical zoom lens. "Deep Learning algorithms" are used to support detection functions such as smart tracking of vehicles or humans with automatic filtering of false alarms.
A sticker in the accessories pack provides a QR code and web address for Manuals and Downloads.
Getting started
The camera is High Power PoE capable (40W max) or can be fed from the supplied 36-volt 2.23A power supply unit. The supplied lead was a European "Schuko" mains plug to the notched (Type 15) IEC connector (kettle type) so a standard IEC equipment lead couldn't be used. So, if an adaptor is not available you may need to replace the mains plug.
The dome is relatively heavy at around 9kg so must be handled with care, especially as the lower dome rotates freely when unpowered. With the Wall bracket firmly fixed in place, the dome's top plate is secured to this using the 3 Allen securing screws that are provided along with the mounting gasket in a bag within the bracket. Although the top of the plate appears at first to be threaded it is simply pushed up into the bracket and the screws then locate into its central channel to hold it in place. The dome assembly can then be hooked onto a hinged bar on the top plate. The lanyard at this stage is fitted between the bracket and the dome to provide an additional level of security against dropping. With the dome hooked in place there is ample space for making off the connections for the network, power, and any auxiliaries such as alarms and audio. Once completed the dome is raised up and secured to the top plate with 4 captive Allen bolts.
Once powered-up the dome runs through a short power-up and position calibration routine. A default IP address of 192.168.1.108 is used and DHCP is disabled. Initial setup is performed using a web browser or the Config tool from the Dahua website. At first connection a strong password is enforced before commencing, with an option to enter an e-mail address for a password recovery process. Further options are available for P2P connectivity and auto-check for updates of firmware.
A Micro SD card of up to 256GB can be fitted for local storage. This is accessed at the rear of the dome and can be exchanged while in situ. However, the cover plate which has two captive crosshead screws securing it, is not tied to the dome so it and its waterproofing seal may dislodge, so this operation must be handled carefully. Video files are stored in .dav format and can be reviewed using the Dahua Smart Player software.
The dome is supplied with a wall-mount bracket, but ceiling and pole mount options are available.
Operation
This is an unusual arrangement in that the dome has two elements to consider, firstly in the upper section a "Panorama" camera that has a fixed wide-angle lens with a 30° Tilt range that has continuous 360° rotation. The lower section has a more conventional dome appearance with a "Detail" camera fitted with a 25x zoom lens that can tilt from +10° to -90° from horizontal and with a pan range of 250°. This means that the Detail camera can be panned 125° either side of the vertical centre of the Panorama camera's view. The Panorama camera's horizontal field of view is 53.7° and vertical is 28.7°. So this camera can view down to approximately 45° which suits its requirement to provide a perimeter overview. The Detail camera can view from above the horizon to directly below the camera so can be used to fully track subjects. An auto-flip function is included.
Read the full review in the July 2020 edition of PSI magazine