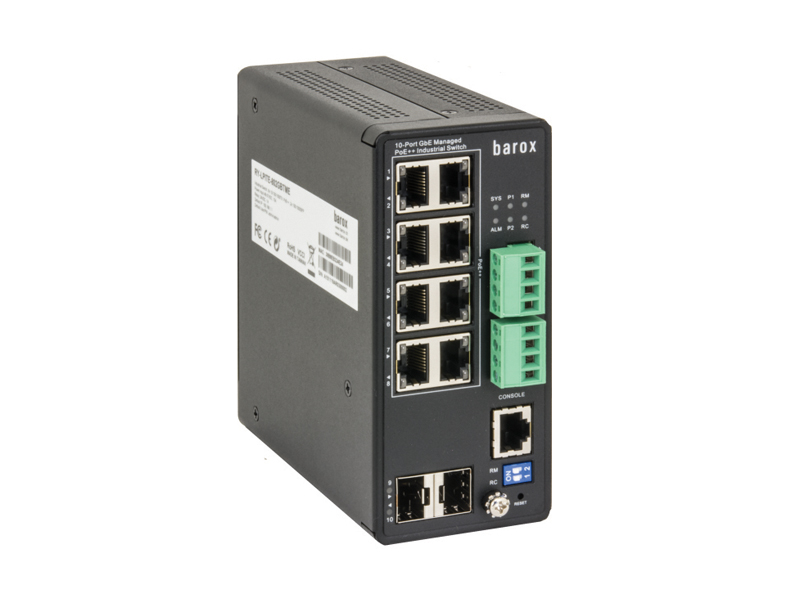 The barox RY-LPITE-802GBTME is a 10-port managed switch with features beneficial to PoE supplied surveillance camera systems. It supports Layer 2 & 3 switching and can be configured for diverse route, ring redundant networks. With 8 Gigabit PoE++ ports and a 24Gb/s backplane, the switch can support high bandwidth video networks.
Getting started
This particular model of barox switch is supplied with a bracket for fixing to the rear of the unit that is used for Din rail mounting. The separate power supply (NDR-480-48) has a pre-fitted Din-rail mounting plate.
The supplied Quick Install sheet simply notes the IP address scheme to be used and refers the user to the barox website for further details and manual.
The power supply has a three-way terminal strip at the bottom for main input so appropriate care must be taken when installing. The input range is from 100 – 240 V AC at 5.3 Amps. The output terminals at the top of the unit supply 48 volts at up to 10 Amps. A green LED confirms power is available and a variable control allows the output to be set from 48 to 55 volts.
The switch has eight PoE enabled RJ45 ports with a further two SFP optical fibre ports for backbone links. 48-volt power is supplied via a 4 way removable terminal block which allows for a redundant supply to be connected on the additional pins. The data sheet states that for PoE+ and PoE++ a minimum of 54v DC must be supplied. A further four-way block connects the normally open relay output and an input D1 connection. A further RJ45 socket is used for Console connection. All RJ45 and SFP sockets are capped until needed.
LEDs on the front panel show System on, PSU input 1 and 2 if a redundant supply is being used, Alarm state, Ring Master status and RC condition.
Read the full review in the January 2022 edition of PSI magazine