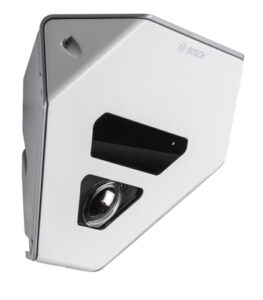 The Bosch Flexidome IP corner 9000MP is a vandal resistant corner mount, 1080p network camera designed to provide coverage of a small (4.5m x 4.5m) room. With a 1/2.7 inch 1.5 Megapixel CMOS sensor, the camera offers a maximum pixel resolution of 1440 x 1080. Camera features include two way audio, onboard IR illumination and a microSD memory card slot for local alarm recording. The unit is ONVIF profile S compliant and may be powered via PoE, 12VDC or 24VAC.
Out of the box the Flexidome appears to be of quality and rugged construction. The unit is supplied with the necessary mounting screws/plugs and is intended for corner mounting in a room directly against the ceiling. The camera is supplied with a short cable tail at the rear of the housing for all connections. The tail is just long enough to pass through a wall/ceiling but access will be required very close to the camera (not always easy) or the tail extending. Once correctly mounted, the design offers very little to get a purchase on in terms of trying to forcibly remove it from its mounting.
Within the camera itself, there are only two physical adjustments; a pair of reset terminals and a potentiometer for adjusting the IR illumination intensity. The lens is a 2.0mm fixed focal length and there is no means of pan/tilt adjustment as this is considered unnecessary due to the wide angle view provided. Once installed in a corner, the camera provides a claimed coverage of a 4.5m x 4.5m room. All other forms of adjustment are achieved via the camera browser or the Bosch Video Client software application.
As stated earlier, the unit may be powered via 12VDC, 24VAC or PoE. What is a little more unusual is that both PoE and a 12/24V supply may be used together providing basic redundancy.
The camera arrived with an installation CD containing documentation on the unit but no viewing application software despite this being referred to on the CD and in the quick installation guide. This was however easy to locate on the manufacturers website and download. The unit comes set as DHCP (Dynamic Host Configuration Protocol) by default but reverts to a static IP address if it doesn't detect a DHCP server on power up. We tried both methods and connected to the camera without incurring any problems.
Having connected to the camera browser via Internet Explorer, the live view was visible and the camera does indeed provide coverage of an entire room including looking directly below itself.
However, the look down facility means that approximately half of the screen image is taken up with a view of the two adjacent walls and the room itself is confined to a triangle in the centre.
Within the browser itself are all the usual functions you would expect in terms of configuring video streams with different live and recording profiles. The camera offers various streams of H.264 together with an MJPEG stream at up to 30 ips. Privacy masking and motion detection may be set up for 4 regions within the image. Two Regions of Interest (ROI) may be configured within the image using an electronic PTZ facility, to produce separate streams for viewing and recording.
Bosch use intelligent dynamic noise reduction (iDNR) to actively analyse scene contents and reduce noise artefacts in conjunction with their H.264 compression technology to reduce bandwidth and storage requirements, whilst maintaining clear images.
Local recording may be configured for alarm event (with 10s pre-alarm), scheduled or continuous and the memory card slot supports up to 32GB microSDHC or 2TB microSDXC.
The camera is true day/night and low light images (with the assistance of the unit's covert infrared LED illumination) are of good quality even in complete darkness. Two-way audio communication is offered and the onboard microphone provides for audio detection alarm events.
The camera may be configured via the browser or Bosch's free Video Client Software application and there is a video security App for the iPad.
Summarising, the Flexidome is an easy to install product and with an IP65 ingress protection rating, it may be used for both internal and external applications where small areas prone to potential vandalism need to be covered. Whilst not over rich in features or analytics, the unit comes with the 'essentials' and is quick and easy to configure.
Score: 8.5 out of 10