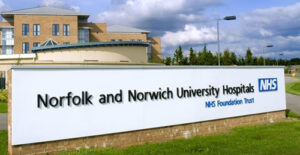 Faced with a healthcare facility that included independent buildings and car parks, the building owner identified that the current legacy access control solution was coming to the end of its life cycle and was in need of future proofing to provide monitoring of entrances, exits and other sensitive areas ensuring a safe environment for patients, visitors and staff.
Site facilities management company Serco Group along with installation partner Check Your Security conducted an Enterprise Audit Report (EAR) of the existing TDSi 379-door access control solution. The report provided the stakeholders with an asset register and conditional appraisal as well as highlighting system improvements. It also offered independent advice on the security industry trends and key available migration paths.
Norfolk and Norwich University Hospital (NNUH) elected to install and upgrade to the latest TDSi integrated access control platform; this included new EXpert 4 IP controllers and EXprox readers, which were combined with the newly-released EXgarde Management Software 4.2 in a virtualised environment.
The integrated system enables NNUH to quickly identify all areas on site, including specific live events where security can respond appropriately, whether this be a suspicious person or hazardous condition, they can react faster and more effectively.