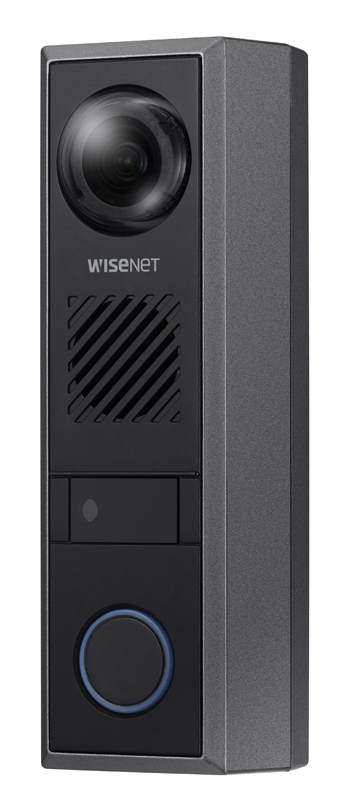 The Wisenet TID-600R is a compact IP65, IK08 intercom unit featuring a 1/2.8" 2MP camera with a very wide viewing angle and infrared support up to 5 metres. It supports SIP 2.0 connection, has a touchless call option, edge storage and ONVIF compliance. It measures 165(h) x 49(w) x 48(d) cm with a weight of 490g.
Getting started
The intercom is powered from either a 12v DC connection (max. 17.6W, 7W typical) or PoE enabled network connection (12.95 W maximum). It is DHCP enabled by default or will be allocated an address of 192.168.1.100.
Wisenet Device Manager software can be downloaded from the Hanwha website to quickly discover, initialise the password, change the IP address and access the device's web server page.
Alternatively at first connection using a browser, a 'strong' password must be entered and confirmed.
This then allows you to sign into the device and the camera image is centrally displayed with a series of control icons below and Live, Playback and Setup icons above.
The lower icons are for Snapshot Capture, Record, AVI/Zip, Alarm Output activation, Audio message play & stop, Status information, Video setup, Pixel count, Aspect ratio, and Full screen display.
The intercom's rear mounting plate has four fixing points to secure to a suitable surface and two grommets are provided for cable entry. The main body is clipped onto this mounting plate and secured with a TR20 security Torx screw. Space for the alarm and relay cable termination is restricted and the connectors require a small blade screwdriver of around 2.5mm.
A micro-SD card of up to 256GB can be fitted prior to securing the body, for edge event recording; this can be set to Ext4 or VFAT format.
A CVBS 75Ω video output connector is included for installation confirmation of view. This can be browser selected as PAL or NTSC (default).
The manual which can be downloaded from the Hanwha website includes details for connecting to a door strike and door release button using the alarm input and relay output connections. If the device is 12 volts powered, then the strike (550mA max. through relay) can be supplied from this source. Alternatively, details are provided for a separate 12 volts supply for the strike. Suitable measures would need to be taken for lock management accessible on the insecure side of any entrance point, however, the device does include a tamper switch and associated event actions can be configured.
While browser managed, the intercom is intended to be connected to a suitable IP-PBX, SIP based telephony system or compatible VMS. The specification states that it has been tested with "Cisco, Grandstream, Yealink VoIP phones and Asterisk PBX software".
Read the full review in the May 2022 edition of PSI magazine