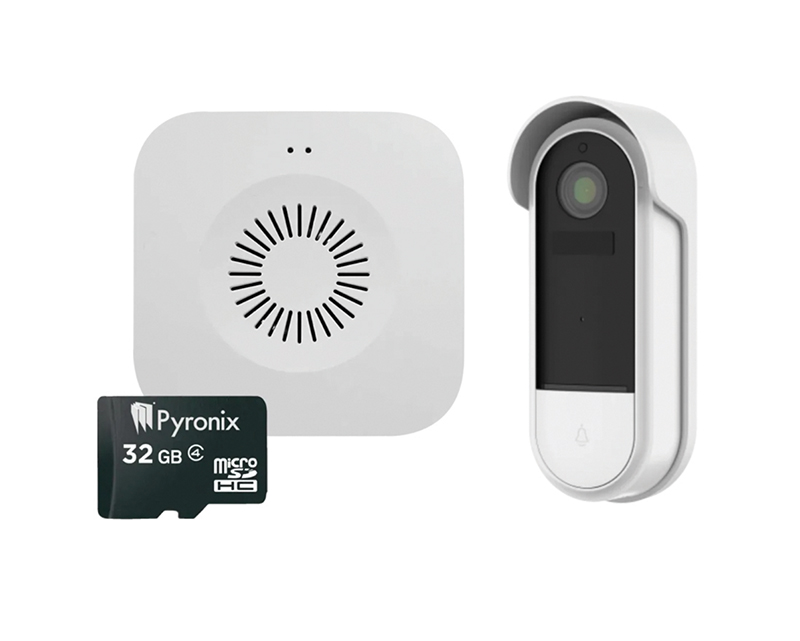 The system is a smart HD video doorbell and wireless chime kit that allows users to receive real-time alerts from the front door and stay connected to home; never missing a visitor or delivery again. The DoorbellCam has an inbuilt mic and speaker for two-way contact.
Localised alerts are made possible with the DoorbellChime. The battery-powered (3 x AA – so no PSU required), audible chime has been designed for full audio coverage throughout the property, offering four levels of volume. Up to four Chimes can be positioned within a property, so homeowners can remain assured they'll always hear a caller.
Build
The overall build quality of the doorbell camera is good. It comes with a sturdy sun/rain guard mounting plate and a slide fit for the main housing itself secured by a security screw. The main housing has multiple rubber tabs that protect the charging port, SD card insert, reset button and power toggle – which are well positioned and protected to further ensure IP65 rating.
Set up
The instructions provided with the kit are very useful and give an easy to follow step-by-step and include a QR code to further information held on the Pyronix website.
There are also in-app set up instructions and videos that will walk you through the set-up process which are very useful for those that do not have a technical background or for end user installations.
For the setup of the kit you are required to have the following in place before undertaking the initialisation of the device.
You will require to have the Home Control 2.0 application downloaded and a user registration completed – which is free
You will need to have the 2.4Ghz frequency enabled on your router
You will need 3x AA batteries for your chime unit(s) or have them on permanent power.
If the above are ready, the remaining set-up of the doorbell cam and chime unit is very straightforward and simple to follow. Simply hit "+" add and follow the prompts through to showing the doorbell cam your app generated QR code.
Once online, there is no further set up required, but for optimum performance, some key settings may want to be altered from default to suit user preference. "Offline notifications" and "2 way audio" are disabled as default for example.
Read the full review in the April edition of PSI magazine