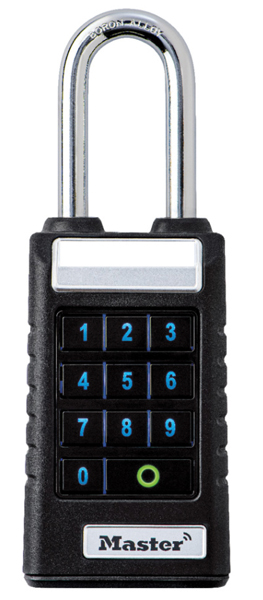 The heavy-duty Bluetooth ProSeries Extended Shackle Padlock from Master Lock features a 62mm wide Zinc lock body with complete rubber bumper for durability and security when used outdoors, the 9mm diameter and 70mm high shackle is made of boron alloy, offering maximum resistance to cutting and sawing. Furthermore, its weather cover provides enhanced weather resistance against snow, rain and temperature extremes.
Getting started
The information provided details all required product codes and instructions for setting up the lock and connecting it to the app. Instructions are initially a little confusing as Master Lock has two applications both called Vault, one is Vault Home and the other is Vault Enterprise but the instructions do not stipulate that this lock will not learn to the Home app.
Once the correct application was downloaded and an account was made with Master Lock Vault Enterprise, the set up was relatively easy. The lock is easily found on the application and the instructions provide a QR code to scan plus product and unique device number (that is also printed onto the lock itself which is a nice touch).
Read the full review in the December 2021 edition of PSI magazine