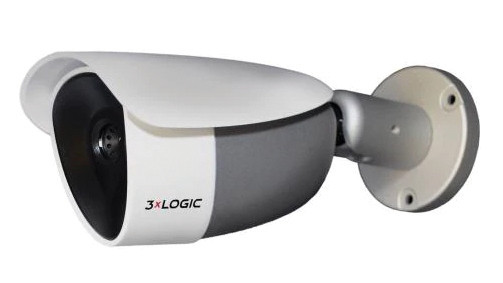 The 3xLogic VX-VT-56 is an IP66 bullet style external thermal camera with a 56° horizontal field of view. It has motion detection including video content analysis and temperature alarm capabilities built in. It is capable of detecting scene intrusion and creating alarms regardless of light levels and weather conditions. A variety of specialist analytics is included.
Getting started
The camera is PoE powered with an optional 12v DC input. The flying lead breaks out into an RJ45 network connector, a power jack, a BNC analogue test output connector and a 7-core cable for Audio In & Out, Alarm input and Alarm output plus associated ground connections.
The integral mount can be used for most orientations and has three fixing holes with the lead fed out through the centre of the base.
An analogue video output is available from the BNC connector on the flying lead, but this is for test purposes only as it does not show the full screen image and removes the OSD text.
The camera uses DHCP by default but does not appear to have any discovery software readily available, though this will likely be accessible through the 3xLogic website or technical support. The camera can be accessed with all major browsers but appears to be optimised for Chrome. At first connection the camera requires a new administrator password to be entered and enforces a strong combination of characters (more than 8 and at least 3 types). Once entered you must then log in using this new password and the camera's web page is then displayed. This is a conventional camera control screen layout with controls to the left-hand side and below the viewing window.
Menu options
The VX-VT-56 browser window has a Setup button that opens a new window showing the 3xLogic configuration menu. This is a conventional set of drop-down lists arranged at the left-hand side with options opening up to the right. These are listed with content as follows:
Video & Audio: Video, OSD, ROI, Audio, Smart Stream, Privacy Mask configuration.
Camera: Profile, Image Enhancement.
Network: Status, Settings, Auto IP, ONVIF, UPnP, DDNS, FTP, SMTP, RTSP information.
Trigger Action: Action Rules, Image Transfer, Relay Output.
Events: Event Rules, Schedule Motion, System Temperature, Alarm Input, Thermal Temperature Alarm.
Record: Management, Storage.
Vigil All in One: Status, Site Information, Maintenance.
VCA: Enable, Rules, Counters, Calibration, Classification, Burnt-In Annotation, Top Notification, HTTP Notification, Tamper, Advanced, Licence.
Security: IP Address Filter, RTSP Authentication, IEEE802.1x, HTTPS, Certificates, Service.
System: Information, Diagnostics, Configuration Backup, Firmware Update, D&T Settings, DST Setup, User management, Language, Factory Reset, Restart, Open Source, Plug-in.
Read the full review in the December 2021 edition of PSI magazine