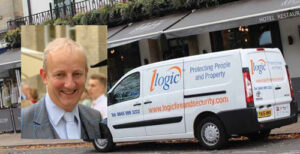 Sean McPartland is the Managing Director of Logic Fire and Security in Knaresborough, North Yorkshire. Areas of expertise for the company include the design, installation and maintenance of all fire and security systems with accreditations such as ISO9001:2015, NSI Gold for fire alarms, fire extinguishers, emergency lighting, access control, CCTV and intruder alarms,  BAFE Gold for fire alarms and emergency lights, NICEIC, Constructionline Gold, Safe Contractor.
What would be a typical project for you?
We have a wide range of projects from large design, supply, install and commission to national maintenance contracts with lots of small and remedial works. Most of our work is predominantly fire but ever increasing security and fire risk assessments.
What is the best thing about working in security?
Working in both security and fire brings a lot of satisfaction that we are looking out for and taking care of companies' statutory requirements, something that is often overlooked or put to the back of the agenda.
It is not just about providing a service to maintain a fire or security system, it is much more; it is about providing a fully inclusive service, highlighting and advising the customer what their obligations are and the technological advances that are continually available to further increase protection for all their "people and property".
Is third party accreditation beneficial to your company?
Third party accreditation is vital in our industry, not only to provide the customer with the confidence and satisfaction that they are using a reputable company which is regularly checked. It is also there to ensure that as our company expands, systems continue to be in place ensuring we are complying and performing to the highest standards protecting our customers and our own people.
Do you think there is a skills shortage in the industry? Any trouble recruiting?
Recruitment is the single biggest challenge in this industry, not only for us but all fire and security companies. There is a severe lack of skilled labour in the industry, which is getting worse year after year. The industry as a whole needs to entice the younger generation into what is a very rewarding and satisfying industry with many opportunities across the board.
We often see adverts on TV or in the papers from the British Army when they are on a recruitment drive. We, as an industry, need to work together and follow a similar model. We also need apprenticeships for all the specialist fire and security needs including security, CCTV, fire, extinguishers etc.
The ideal engineer would be multi-disciplined with specialities in one area.
Read the full interview in the September 2019 edition of PSI magazine