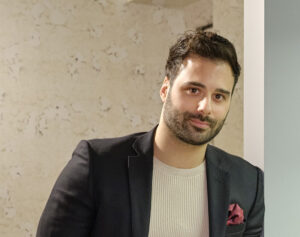 Tas Kyriacou is the Director of IDS Group in London. Areas of expertise for the NSI Silver certified company include CCTV, access control and door entry.  
What would be a typical project for you? 
We work both in the residential and commercial space in London and further afield. We have primary focused over the years on CCTV, access control and door entry. Our commercial projects demand these types of system as they tend to be on the larger spectrum, ranging from 5,000sft to 180,000sft. Our typical project tends to be office or workspace buildings where various tenants are using the space and therefore it is crucial for the landlord to provide safe and secure spaces for their tenants. These buildings also have concierge or reception desks as well as security rooms. So, it is important that the security systems are easy to use and accessible to the relevant staff. Our residential project tend to be prime or super price homes in and around London; these projects, however, have different demands.
Do you have any 'go to' technology/manufacturers? 
We don't necessarily have 'go to' technology or manufacturers as we believe that every project is different, with various requirements, demands and expectations. Manufacturers and products can vary so it is important to us that we listen to the requirements of the client and design a system that will fulfil the client brief, as opposed to it being product driven. That said, we do have a shortlist of products we use regularly. Once company that we always stick to is 2N for our door entry. Their equipment is robust, flexible, and simple works! We deploy this on every project we can. We have found the products very reliable, and the quality of manufacturing is evident.

What is the best thing about working this industry?
There are always new challenges, demands shift and requirements change quickly, so it is always important to stay ahead of the game. Working in London specifically, it's extremely demanding, however we have always enjoyed a challenge!
Is third party certification beneficial to you?
Yes, certifications are important as it shows competency, education and consistent progression. It's also important to us that our engineer team is constantly up to date with training and the development of products.
What is your ultimate/fantasy electronic security/fire product?
I believe that AI will – and as already has – impacted our industry. AI will accelerate the efficiency of technology and make things far more automated. It's not necessarily a 'fantasy', but enhanced security for clients is our goal so if this helps us deliver it, then it's great.
Read the full interview in the November 2023 edition of PSI magazine