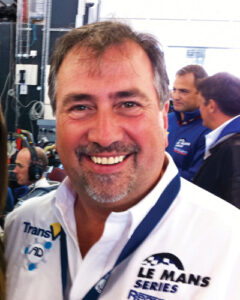 David Armstrong is the Managing Director at Centurion Fire & Security in Huddersfield having had a career in the industry that started in 1974. Areas of expertise for the company are CCTV, intruder, access control and fire for commercial premises applications with accreditations including NSI Gold and BAFE.
What would be a typical project for you?
We stopped working in domestic security about 30 years ago because there were too many low cost systems being fitted by unqualified engineers in the market. So we started to focus on commercial installations and that was the best decision we've ever made as a business. Commercial security systems need maintenance contracts and monitoring for insurance cover with very little fall-off rate. While with domestic installations it was a much higher drop out rate for people to cancel their maintenance contract. Currently we are most active with fire contracts, followed by CCTV, access and intruder in that order. This might be because the intruder alarm side of things has become very competitive in terms of price; however we have accumulated a lot of intruder alarm maintenance contracts over the years which keeps us fairly busy!
Do you have any 'go to' technology?
We have multi-skilled engineers working in all four major disciplines and the only way you can do that is to restrict your product range to what they are trained on. For the past thirty years we have fitted Galaxy panels but from the start of this year we've favoured Texecom technology. The main reason for this decision was that the upload/download capabilities are all in the cloud with the Texecom systems unlike previous systems that required a separate SQL server. The app is also really good and has a lot of features including remote resetting and all the stats that customers like. For access systems we use Paxton for installations of up to 1,000 doors and an American company called DSX for larger contracts of 1000+ doors. In terms of CCTV we've used lots of different systems over the years but today we mainly use Hikvision because of the benefits of the in-built analytics. For example, in a recent perimeter security installation for 22 Builders' merchants sites we didn't use a single PIR, the whole thing was put together using Hikvision AI enabled video analytics which can filter out false alarms and then checked again via Calipsa at our monitoring station. Finally for fire we use C-TEC, again because of the cloud enabled upload/download features. We are currently an evaluation site for the C-TEC CAST platform. We are also an accredited Milestone CCTV installer.
What is the best thing about working in security?
You'll never be out of work. Also I like that fact that the technology changes and evolves – this is a very innovative industry and I don't think many people recognise that. It's also great that we can work with manufacturers to help develop new technologies.
Is third party accreditation beneficial to you?
Most certainly – without it we would be seen to be no better than "a man with a van". Accreditations maintain the standard of the industry at a high level and also make it a level playing for competition. As well as the NSI Gold (since 1984), we have been BAFE approved for fire systems for the last five years. Without a doubt, third party approval has helped us when it comes to tendering for new projects.
Read the full interview in the April 2020 edition of PSI magazine