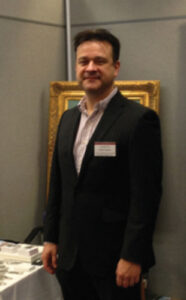 John D'Aprano is CEO at DS Systems in South Wimbledon and has worked in the industry since 1987; with DS since 1993. Company areas of expertise include CCTV, access control, door entry, asset tagging, gates and automation and the business lists accreditations such as SSAIB, ISO:9001, Safe4Site and Safecontractor. PSI caught up with him to discuss the modern market and his experiences.
Do you use a distributor or buy direct from manufacturers?
We use both depending on the project. A lot of our specialist equipment comes from manufacturers that we have established a close relationship with. For instance the ability to make truly integrated systems often relies upon Software Development Kits (SDK) and Active Protocol Interface (API) which we work closely with the manufacturers to create and this often requires a Non-Disclosure Agreement (NDA) to be signed for the efficacy of the continued security.
Is third party accreditation beneficial to you?
Yes, DS Systems has a variety of accreditations ranging from Safecontractor to SSAIB approval to ISO: 9001 certification. This ensures that we are up to date with current health and safety and are constantly monitoring our processes to ensure that they are efficient. SSAIB in particular, provides the customer with confidence that we are able to design, install and maintain security systems to recognised standards.
What would be a typical project for you?
There is no such thing as a typical project for DS Systems, but a realistic project for us might be an access control system with CCTV and remote monitoring, maybe also with a pair of automated gates; but in reality, no two systems are ever exactly the same. There are many factors that play a part in how the system needs to operate with the site and how the customer requires the equipment to integrate into their security procedures.  It is the responsibility of our Technical Surveyor and Installation team to ensure that the customer's requirements are met in full and if there are any snags (or challenges along the way) we work with the customer to devise a quick and efficient solution.
Do you think there is a skills shortage in the industry? Any trouble recruiting installers?
We find there is a huge skills gap within our specialised market when looking for truly technical engineers. Many of the candidates we interview who seem to have relevant experience on paper, have limited understanding of how the latest technology works and sometimes rather basic knowledge of electronics. In our interview process we ask applicants to take part in a basic technical test, this has seen many fail without a clue of a basic circuit. When we employ an engineer at DS Systems, we invest a lot of time in them through training and coaching their skills to enable them to become efficient and expert in their role. Many of our team have been with our company for years and we try hard to be an employer of choice.
Are there any common requests from customers that give you problems?
The sales process starts with an understanding of the customer's needs. We would then look at the site and work out a scheme, strategy and cost that will solve their problem and fit their budget. There are often unrealistic expectations from customers for system performance or cost. But by detailing how the system will operate and providing a full specification, these issues are often overcome. We look upon the system cost as a return of investment for the customer over a number of years. This enables us to show how a cheap system may not be good value over a long period, where as a quality system, regularly maintained will keep performing for years to come.
Read the full interview with John D'Aprano in the January 2015 edition of PSI magazine.