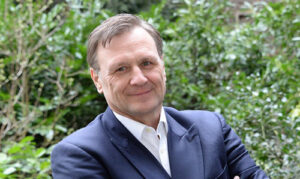 Vanderbilt International has strengthened its senior management team with two key appointments. Peter Mueller (pictured) has joined the company as its new Chief Information Officer and executive committee member, while Rickard Hammarberg will take on the role of Sales Hub Head for Sweden.
Mueller's career spans over 30 years in business, where he was a management consultant for international blue chip companies including Deloitte, Arthur D Little and IBM. A graduate of the University of Münster, for the last seven years he has acted as Professor in MBA Programs at the Ho Chi Minh University of Technology, Adjunct Professor at Beijing Normal University, as well as being a visiting Professor at universities throughout India.
Mueller will facilitate alignment with Vanderbilt's information technology (IT), business and management functions and commenting on his new role, he said, "As CIO, I'm looking forward to identifying areas where we can utilise technology to make our overall operation more efficient and cost effective, and improve the service we offer our ever growing customer base. This will ensure that we maximise our competitive potential in what is a highly competitive market, while delivering value and adapting to changing working practices such as remote working."
Also joining Vanderbilt as Sales Hub Head for Sweden, Rickard Hammarberg brings a wealth of experience gained over 20 years of working in the security industry, where he has amassed considerable knowledge about the technology and trends within the CCTV and access control sectors. His previous positions include a variety of national and international roles, including a two-year stint in the UK as Team Leader at Bewator. His most recent position was Regional Sales Manager Nordics at Lenel Systems International and he has also worked for BIAB Larm and YIT Sweden.
Welcoming Mueller and Hammarberg on board, Joseph Grillo, Vanderbilt's Managing Director, said, "Having Peter and Rickard on our senior management team will help us in our mission to expand our presence in the security industry and provide a level of service that is agile, flexible and always meets our customers' needs."