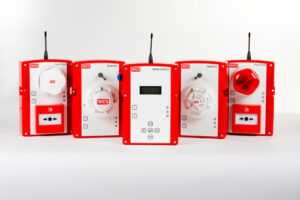 The Fire Protection Association's (FPA) 9th edition of The Joint Code of Practice has reinforced the need for construction site fire alarm systems to meet EN 54. Version 9 of Fire Prevention on Construction Sites; The Joint Code of Practice on the Protection from Fire of Construction Sites and Buildings Undergoing Renovation (JCOP) now contains the advice; Components of automatic fire detection and alarm systems should be marked as complying with EN 54 (paragraph 13.8).
EN 54 is a mandatory standard that specifies requirements and laboratory testing for every component of fire detection and fire alarm systems.
"The latest update to JCOP clarifies that fire alarm systems used on construction sites should have been independently tested to EN 54," said Paul Henson, Sales and Marketing Director at Ramtech Electronics. "In updating JCOP, the FPA and the insurance industry have made it much easier to specify construction site fire alarms by bringing them up to the same high standard as other safety critical aspects of construction site work."
Paul added: "JCOP now clarifies that where a fire alarm system is specified for a construction site it should have been independently tested to meet the requirements of EN 54. To fully comply with this standard, each and every unit in the system should have been tested and the best way of determining this is to check the Declaration of Performance certificate."
The 9th edition of JCOP (published October 2015) was undertaken by the Technical Division of the Fire Protection Association (FPA) and experts from the insurance industry who reported to the RISCAuthority Risk Control Steering Group.