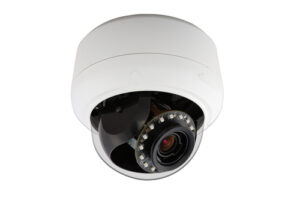 This camera is an internal 5MP dome of the Tyco "illustra" range that covers internal and external domes and bullet cameras for the majority of installation requirements. It is promoted for its high definition image capture along with low light performance, wide dynamic range and ease of installation. Face and motion detection are provided as a means to improve event evaluation.
A 17-page "Quick-Start Guide" provides the necessary information to get the camera installed and operational. A comprehensive 128 page "Configuration and User Guide" provides details on all settings and advanced feature set-up for Face detection, ROI (Regions Of Interest) etc. The 64 page "illustra Connect" manual covers the device discovery application that is also supplied on the disc.
Three captive screws hold the dome's bowl in place; once removed this is held in place by a flexible strap that can be easily removed using a small cross-head screwdriver but the screw and its washer are very small and not captive so care must be taken to avoid loss. Three further captive screws hold the main dome body into the base. These main securing screws are all of the Torx T20 security format so can be released using the supplied bit in a suitable interchangeable screwdriver.
The camera can be powered from 24v AC or PoE. For these tests PoE was used. The camera takes approximately 40 seconds before any network activity lights activate, then once operational the camera can be accessed via a standard internet browser or the Connect application. Push-fit connectors are provided for Power input, Alarms and Audio if these functions are used. The supplied conduit adaptor plate attaches to the casing to provide sturdy protection of these connections if not base mounted.
While the manual gives the default IP address as 192.168.1.168, DHCP is also set by default so if setting up on a customer or test network this may be automatically allocated within the local subnet. The Connect software will allow discovery of the device details if unknown, along with any other devices that use the ONVIF WS-Discovery protocol.
The Connect software failed to load onto a Windows 10 PC but this was not investigated further as it was not specified to operate beyond Windows 8, and no mention was given to Windows 10 in the release notes. Loading onto a Windows 7 PC went smoothly with the camera being immediately found.
The camera performed well with discernable colour being observed well below 1 lux light level with the IR turned off and the camera forced to Colour mode. In Night mode the IR illuminators gave good results when observing a target at 15 metres.
The camera body measured 36°C and the head 34°C after over two hours of operation so temperature control is well managed.
The manual is clearly written with good examples and even provides (unsupported) information on stream monitoring using the VLC player which could prove beneficial for system diagnostics.
Read the full review in the November 2015 edition of PSI magazine.