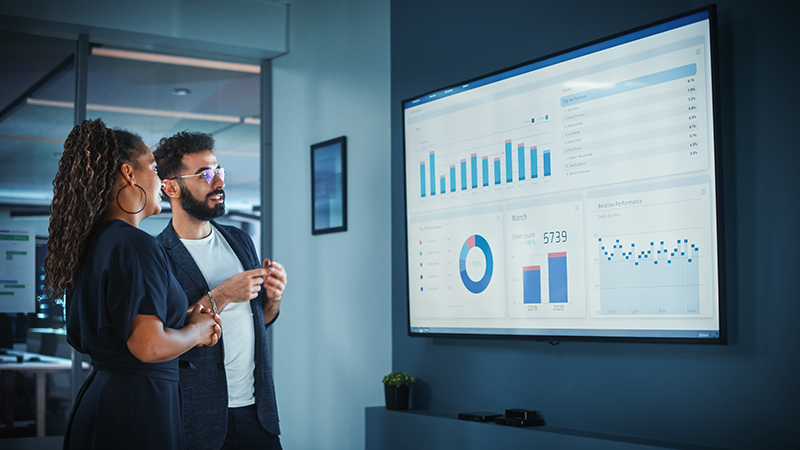 Looking to expand your installation portfolio to include digital signage? ADI experts reveal four areas currently seeing growing customer interest and give us their top tips
For years, digital signage displays have played an important role for businesses, institutions and offices to relay information effectively and build a stronger relationship with their audience. In fact, commercial AV experts have noted that utilising digital signage in business daily operations may be the most impactful and cost-effective tool for brands to deliver their message.
Here, the experts at ADI explain more about the four digital signage industry trends that you should know about to provide customers with the best digital signage advice the next time you are on site.
Interactive displays
If your customer wants to create a personal and engaging experience with their audience, recommend that they install interactive displays to drive their customers to take action on a product or service. Interactive displays are best for businesses and companies that need to effectively communicate or showcase content and information to a larger audience. Such displays are particularly useful in educational institutions, retail spaces, healthcare facilities and public spaces.
What separates interactive digital signage from other displays lies in its features and capabilities that it offers. The two main types of interactive displays include touchscreen and touchless systems. Touchscreen systems are useful in businesses that want their customers to take a specific action or for groups that are required to collaborate and view data. Touchless systems are extremely versatile as they can offer unique capabilities, while eliminating the need for physical contact. Some features that are included in touchless digital signage are facial and voice recognition, motion control and more.
Digital signage in corporate settings
Installing commercial displays in offices have proved to be powerful and useful in several ways. First, it can improve internal communication and engagement between employees, which are essential to maintain a professional and collaborative environment. Second, it's a great tool for new employees and visitors to find more information about the company or navigate through the office. Finally, digital signage is an unbeatable resource when team members need to collaborate and display data for meetings. Although there are many other ways offices can utilise digital signage screens in their daily operations, these are the most common benefits that both small to medium-sized businesses and large corporations can take advantage of.
Video walls
If your customers are seeking to improve their overall customer engagement and customer interaction, recommend that they invest in a video wall to captivate their audience with dynamic content showcased on a large screen. Video walls can be utilised for a wide range of industries, including entertainment, retail, food and drink, education and corporate. They are also user-friendly, which will make it easy for your customers to personalise their content however they would like.
Some more video wall benefits your customers can take advantage of include:
Create an exciting first impression
Improve overall customer experience
Grab the attention of customers with clear, high-resolution images and videos
Showcase or communicate a variety of content, including digital art, internal or external information, news and more
Use of APIs
As business owners are becoming accustomed to a digital world, more and more companies are integrating APIs (Application Programming Interface) with their digital signage platforms. When APIs are combined with digital signage, it provides users with customisable functionalities that can better support their business operations. This is because digital signage APIs allow users to connect their displays with their existing database and software.
Some examples of how companies offer their customers a better experience by utilising APIs with their digital signage platform, include being able to schedule and cancel meetings in rooms, check-in for an event or appointment and relay emergency updates across all digital signage displays. Not all businesses will need to use APIs with their digital signage. However, the areas that will benefit the most from them, include offices, conference centres, entertainment venues, healthcare facilities and educational facilities.
Top tips
Ensure that the distance between the digital signage and the audience isn't too far or too close
Consider the lighting where the digital signage will be installed at
Assess the viewing angle at which the audience will see the digital signage
Ensure that the screen size is appropriate according to where it will be installed and how it will be used
Evaluate the type of display screen (OLED, LCD, LED, etc.) your customer will need
As the digital signage industry continues to grow in popularity, digital signage displays are effective tools for businesses and companies to visually deliver their message to their audiences. Digital signage solutions are also well-known for their cost-effectiveness and versatility as they can be installed in almost any customer-oriented industry. As an installer, ensure you stay up to date on the latest digital signage market trends and be sure to consider the top tips when you offer digital signage solutions to your customers.