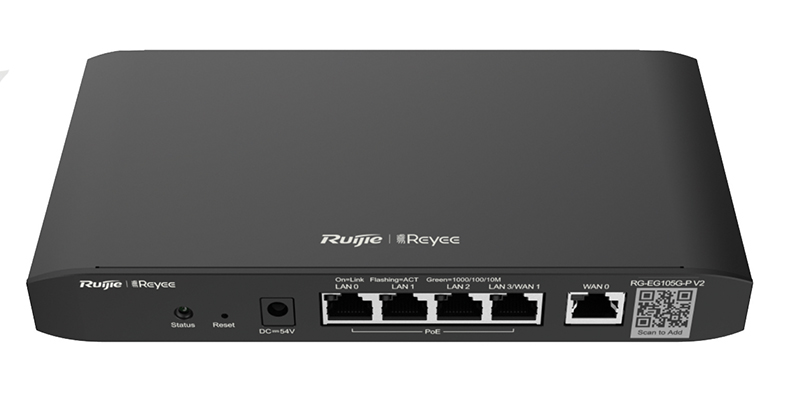 The three Ruijie Reyee devices reviewed here are part of a range of network products that have previously had little exposure in the UK. Now available through Dynamic CCTV, the range extends from these compact devices to enterprise models. Cloud-based management ensures easy setup and secure access. The Reyee sub-brand is intended to provide a suitable range of Routers, Switches and Wireless devices for small-system integrators and is a useful introduction to the full offering.
The RG-EG105G-P Router has a WAN port for internet connection via a suitable modem, and four PoE enabled LAN ports.
The RG-ES206GC-P Managed Network Switch has four PoE enabled ports and two uplink ports.
The RG-RAP2200(E) Access Point is PoE driven but optionally can be supplied from 12v DC. It has an additional LAN port.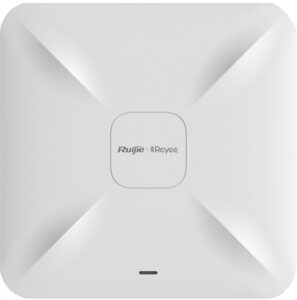 Getting started
The simplest way to set up the devices is with the Ruijie app. This can be downloaded from the Android or iOS store and is used to configure and manage Ruijie devices. When first run it is necessary to set up an account on the free Ruijie Cloud service, and this is a simple process that can be entered for a company, a freelancer, or a user to suit.
Once the devices are powered up and connected, the app can be used to 'Add a Project' with a unique name and management password, and the devices can then be added.
Adding devices is equally simple with either direct entry, discovery, or via the QR code on the device label. The Ruijie support site includes links to a wide range of short explanatory videos along with some full training sessions online.
Standard networking terminology is used throughout, so users with reasonable networking skills should have no difficulty in installing and setting up a system. For most CCTV and similar security systems, larger switches such as the RG-EG210GP 10 Port (8 + 2) or the RG-EG226GC-P 26 port (24 + 2 SPF) will likely be required. The latter supports 24 PoE ports with a total PoE capability of 370W.
Performance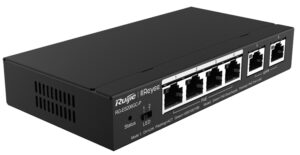 The RG-EG105G-P router has a bandwidth of up to 600Mb/s, or 500Mb/s if flow control is used. This model provides 4 PoE+ ports and a single WAN port, though the fourth LAN port (LAN3) can be configured as an additional WAN port if required. This then allows Failover or Load Balancing to be implemented. The PoE ports can supply up to 54W in total with a maximum of 30W on a single port. The DHCP pool is enabled by default.
Up to 100 clients are supported and the router can control up to 32 devices (such as APs) and 128 switches.
Configuration allows for per-port VLANs, Smart flow control, Real-time traffic audits, Customisable portal page, Application blocking' and firmware upgrade per device or batch.
Port management allows, Port Mirroring, Loop Protection, Isolation, Limiting, Storm Control, Static MAC, and MAC searching.
Status display shows: Port statistics, Monitoring information, Cable detection, VLAN configuration, MAC lists.
Its dimensions are 206.5(w) x 108.5(d) x 28(h) mm with a weight of 0.84kg. The RG-ES206GC-P switch has four PoE ports and two uplink ports. All are up to 1Gb/s capacity, with a total switching capacity of 12Gb/s. The PoE ports provide up to 54W total and include an extended PoE mode of up to 250 metres.
Read the full review in the July edition of PSI magazine