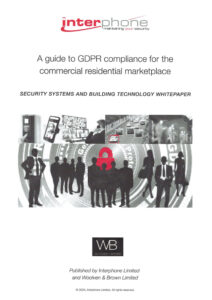 Interphone has published a security systems and building technology whitepaper to help installers better understand their responsibilities regarding the General Data Protection Regulation (GDPR). The report, titled "A guide to GDPR compliance for the commercial residential marketplace", has been produced jointly with legal training specialist Woolven and Brown to provide an industry-specific look at the data protection and privacy law.
"Security systems and building technologies now hold personal data in many hidden places, so organisations within the commercial residential marketplace need to know what they can and cannot do in relation to holding this information based on the laws that are in place," explains Charlotte Woolven-Brown, Managing Director of Woolven and Brown. "The exact requirements can often be confusing, so this guide is designed to help property professionals understand what the GDPR and the Data Protection Act 2018 are and how they apply to their property businesses."
The white paper provides an introduction to the GDPR, outlining the main considerations for commercial residential property organisations and the impact it may have on them. The guide also covers product specific policy requirements for those security systems and building technologies that either hold a lot of data or share data with a third party. This includes CCTV, automatic number plate recognition (ANPR), biometrics, voice recognition, door entry and access control.
"The GDPR and the Data Protection Act 2018 have changed the manner in which we process and manage data. Failure to comply could be extremely damaging in terms of potential fines and the threat of civil action, while adverse publicity risks significant damage to the reputation of an organisation. The advice to property businesses is clear, understand your responsibilities and get it right from the start," concludes Charlotte.
Julian Synett, CEO of Interphone commented: "Since the introduction of the GDPR, we have had installers seeking clarification on their compliance requirements for the security systems and building technology we develop, install and maintain. This suggests there is still a lack of clarity about what is needed, so we have created this white paper to help answer many of the GDPR questions that property businesses currently have."
The whitepaper can be downloaded here