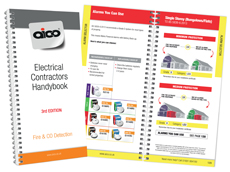 Aico has launched the third edition of its Electrical Contractors Handybook. This latest edition has been updated for BS 5839-6:2013 (the standard for domestic smoke alarm installations), features new siting and alarm selection guidance, as well as new products launched by Aico.
The Electrical Contractors Handybook has also been redesigned and restructured to make it even easier to use than before. A new opening chapter – 'Before You Start' – provides advice on aspects to consider before an installation, such as different sensor options and their suitability for areas within a property and types of alarm interconnection in the form of hard wiring and RadioLINK wireless interconnection. The follow on chapter – 'What to Fit' – goes on to explain the different products offered by Aico and the solutions they provide. A 'System Set Up' section has been incorporated, split into 'How to House Code' and 'How to Test' alarms, providing easy to follow instructions and advice.
The Alarm Selector section has also been completely redesigned to feature Aico's new house graphic which is being used across its suite of sales and marketing material. The graphic provides a clear means of showing which products are suited to which rooms and which property types.
As with previous Aico Electrical Contractors Handybooks, this latest edition is colour coded into different sections covering all users need to know about choosing, installing, testing and maintaining smoke and CO alarms. It features simple, clear diagrams for quick reference, checklists, dos and don'ts, frequently asked questions and revealing fire statistics.
The Electrical Contractors Handybook can be requested through Aico's website here