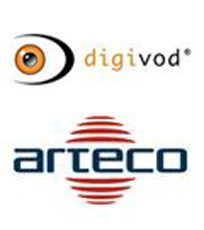 Canon Europe announced two new partenrships at Security Essen this week. The first sees an agreement with digivod, a provider of video management software (VMS). The collaboration will enable Canon customers to access digivod's solution across its range of network security cameras and benefit from its video analysis features.
Following demand from customers to access Canon's network security cameras, the partnership will reportedly enable Canon and digivod to provide a "simple, flexible and scalable security system that can be adapted to suit all business sizes across key verticals, including retail, warehousing and petrol station environments."
Canon's network cameras will be supported by digivod's solution, which will enhance its self-learning analytic functions, including different filters to classify identified objects. The digivod VMS supports cameras with a resolution of up to 8 megapixels and enables Canon customers to incorporate license plate recognition into their security systems. The optional feature identifies characters starting at a 16 pixel font size and detects alpha numeric characters in the four most common text types (Latin, Arabic, Cyrillic and Chinese). Once activated, security systems can be set up to trigger an alarm after certain license plates have been detected.
Dr. Karsten Fourmont, CEO says, "Our customers need tailored security offerings to suit their needs. To help meet this expectation, we are pleased to be partnering with Canon to access its high-quality lens technology and provide a simple, flexible and reliable solution."
Deal Two: Arteco
Canon Europe's second partnership announcement concerned Arteco, a Video Event Management Software (VEMS) for the security industry. The agreement will provide a VMS offering and make Canon's range of network security cameras available to Arteco's customers.
The VEMS provider required a hardware partner that was easily adaptable and complemented the flexibility of its features to provide security solutions for all business sizes; from small businesses, to enterprise security operations.
The collaboration will extend Canon's reach into a wider market and provide customers with a package to suit their surveillance needs across a number of key verticals including business parks, schools, hospitals, regional utilities, manufacturing, warehousing and hotels.
Arteco's VEMS simplifies the third-party integration process and is compatible with a range of input and output devices, meaning the security system can be extended to incorporate monitoring of a range of actions, such as opening gates and closing doors. A streamlined user interface will also help users to clearly monitor and identify critical and key events, such as trespassing and perimeter protection.
Giampaolo Sabbatani, CEO of Arteco, comments: "We are extremely thrilled with the opportunity of partnering with Canon Europe by integrating their cameras with our VEMS, Arteco Logic NEXT."
Julian Rutland, Planning and Strategy Director, Canon Europe, says, "Working with key partners to provide tailored security solutions and adapting them to meet the needs of our customers is central to our strategy."