Axis Communications has announced thre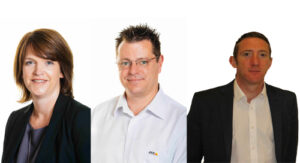 e new appointments to its UK sales and distribution teams:
Peter Dempsey joins the company as a key account manager for the Irish market. Peter has over 23 years' experience of the Irish security industry and a vast knowledge of network video. Prior to joining Axis, he was a key account manager for Panasonic for ten years, managing the distribution and system integrator channels and key product launches.
Katherine Bramwell joins as a distribution account manager based in Watford. She has over 20 years' experience in the security and IT sectors and was previously the northern region area sales manager for ADI Global Distribution. At Axis, Katherine will be responsible for managing key Axis distributors and establishing long-term partnerships, helping them with the growth and education of their business.
Mark Egget also joins Axis as a sales engineer for the South East England region. At Axis he will be working closely with the sales team and helping the channel and partners realise the benefits of Axis products. As a former solutions engineer for Axis partner, Milestone Systems, Mark is highly experienced at helping customers specify the right product for the right solution.
Atul Rajput, regional director, northern Europe, said: "We're delighted to welcome these new members to our UK team. All of our new recruits have the necessary specialist experience to support our partner network."