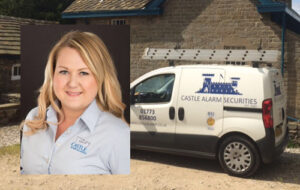 Christina (Chrissy) Powell has been the Managing Director of Derbyshire-based Castle Alarms since 2013. With areas of expertise including intruder alarms for domestic and commercial properties the company is NSI Gold approved. PSI caught up with Chrissy to find out more about her experiences in the market.
Do you use a distributor or buy direct from manufacturers?
We mainly use Pyronix and Risco for our intruder alarm parts. With Risco we buy direct but for Pyronix products we get them from Giltbrook Fire & Security who are located not far from where we are based.
Is third party accreditation beneficial to you?
Yes – our NSI Gold medal opens many doors to us both for domestic clients but also commercially. Insurers are now insisting on this standard and we feel proud to be a part of the NSI community.
What would be a typical project for you?
Typical projects for us fall into two categories – medium to large domestic properties that are enjoying the benefits of wireless intruder alarm technology and Graded 3 commercial systems linked to an ARC. We also do a lot of work in heritage buildings and are gaining a reputation in our area as a company who is sensitive to the needs of a graded building.
Do you think there is a skills shortage in the industry? Any trouble recruiting installers?
We recently put out an advert for a trainee and the response was great. The great majority of applicants were older people who wanted to shift their career in a different direction.  I also had a lot of interest from people who already work for larger installers who wanted to work for a family business.
Read the full interview in the August 2015 edition of PSI magazine