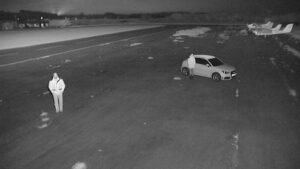 Raytec's new range of Panoramic Ultra Infra-Red illuminators is designed for all PTZ domes, wide angle and multi-sensor cameras covering a large area. It provides 180° illumination to allow these cameras to generate images at night, at distances up to 150m and beyond – all from one illuminator. Panoramic Ultra can seamlessly achieve 360° surveillance with only two lighting units.
According to the company the new Panoramic Ultra range of illuminators delivers double the power and 50% more distance than their previous generation of wide angle illuminators. Panoramic Ultra utilises high power LEDs with Holographic Lensing and Hot-spot Reduction Technology (HRT) to achieve a better spread of light and longer illumination.
Its holographic lensing spreads and controls the light for an even light output across the full width and depth of the scene with no dark or bright areas. The targeted elliptical beam pattern with HRT produces an angle of 180 degrees (horizontal) x 10 degrees (vertical) and focuses the light where it is most needed. This generates longer distances and reduces light spill both upward and in the foreground, eliminating potential hotspots caused by over exposure at close range – perfect for illuminating subjects at different depths of scene.