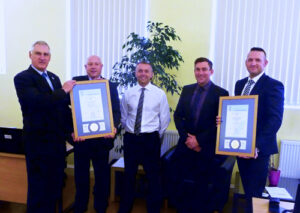 Bristol-based Imperial Fire & Security, installer of electronic security and fire detection systems, has been awarded NACOSS Gold and Fire Gold approval from the National Security Inspectorate (NSI), thus demonstrating a commitment to competence and quality standards.
NSI's Chief Executive, Richard Jenkins, presented the Imperial management team with the Gold medals accompanied by Adrian Plummer, NSI Regional Auditor, who conducted the specialist audits on behalf of NSI.
NSI Gold medals are produced exclusively for NSI by the Royal Mint, and are awarded to companies who have achieved Gold scheme approval with NSI.  The 'NACOSS Gold' scheme is NSI's premier approval scheme for companies involved in the installation and maintenance of intruder alarms, CCTV and access control systems.
As an NSI 'Gold' approved company, Imperial is also required to maintain an ISO 9001 Quality Management System delivering further confidence to their clients. Continuing approval means that Imperial will be regularly and independently monitored to ensure continual compliance with the relevant Standards, and have their certificate of approval renewed accordingly.
Laurence Bernard, Imperial's Sales Director stated: "We are committed to providing both new and existing customers with a consistently high service and to demonstrate this we applied to NSI.  We set ourselves the challenging target of two NSI approvals which was no mean feat, and  are delighted that the effort put in by the whole company has been rewarded.  We are immensely proud to have been presented with our Gold medals by Richard Jenkins and very much look forward providing our customers with a one-stop-shop for all their security and fire safety needs."
Richard Jenkins, NSI Chief Executive commented: "This is a tremendous achievement for the whole team at Imperial Fire & Security of which they should be righty proud.  It is clear they are staunchly committed to providing their customers with a professional quality service, and the desire for continuous improvement. We are delighted that they have chosen NSI certification to ably demonstrate this commitment and wish them every success."
Pictured (L-R):  Richard Jenkins (NSI), Martyn Partridge (Technical Manager), Jason Pullinger (Director), Craig Pullinger (Director), Laurence Bernard (Sales Director).