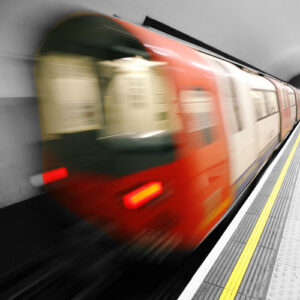 Although high profile security incidents at UK airports tend to grab the headlines, crime statistics from the British Transport Police (the national police force responsible for policing the railways), show that major city railway stations are crime hotspots. There were 576 crime and anti-social behaviour offenses at Euston Station in the period from June 2013 – July 2014.
Managing security at railway stations is a complex business. Large city stations have huge numbers of passengers passing through them every day and numbers are set to increase. For example, Manchester Piccadilly has approximately 12 million travellers every year. Rail passenger numbers in the UK are expected to grow by 16% by April 2019.  In addition, city stations are becoming more like mini shopping centres with a variety of retail and food outlets, which means that theft, robbery and burglary all occur. Add into the mix antisocial behaviour, violent crime, terrorism and car crime and the security of the millions of railway station users presents a tremendous challenge.
Trains, planes and security challenges
So how do the train operators and railway station authorities meet this challenge? An interesting comparison, where numerous lessons can be learned, is to take a look at how airports manage their security. Airports and railway stations have many similarities. Firstly, airports have large numbers of passengers and peaks of passenger traffic such as the summer period and bank holiday weekends. In addition, airports are just like railway stations in that they have to manage daily crime as well as major incidents such as terrorism threats.
In addition to the installation of the best security technologies, airports also developed effective strategies using preventive measures such as staff training, which enable staff to become more aware of situations that could potentially escalate and manage those situations effectively.
Dissuasive actions can be put into place to raise the profile of security presence such as general communications campaigns on the subject of security (TV advertising, etc.) and through more specifically-geared action in schools (lectures organised on the penal code, a reminder of the law, justice, the obligation to be in possession of a ticket, etc.) in the hope of reducing juvenile delinquency.
A greater number of visible staff can also be an effective measure to dissuade potential crime offenders in railway stations. This does not have to take the form of uniformed security staff – it could also be an increase in customer care staff.  Additionally, security installers can also advise rail services to take a greater advantage of security technologies, for example as well as CCTV cameras; personnel could also be using light, body worn cameras. Advising clients on alternative security measures helps you foster a trusting relationship with your customers.
Be proactive
Airports have been innovative in their use of proactive strategies, use of technology and training of security personnel. For example, the training of security personnel to identify suspicious behaviour in a crowd of people is a skill that can be transferred from airports to railway stations.
In addition, the installation of video surveillance and effective communication between the video technician and the security personnel on the ground is a proactive strategy, which can quickly bring a potentially disruptive incident under control without it escalating.
Just like airports, major city railway stations run 24/7 and therefore need to maintain a round the clock security presence. Railway stations are subject to sudden changes due to circumstances outside their control such as adverse weather conditions, technical failures and labour strikes (for example, train drivers).
Airports, like railway stations have many personnel such as shop staff and cleaners who have access to valuable products and sensitive areas. Airports manage this through careful access management systems and close liaison with human resources to ensure that access rights are closely monitored when employees leave or no longer have rights to enter a certain area.
Assets need protection
Although railway stations generally cover a smaller area than airports and have fewer car parks, they are still large enough and have enough valuable assets stored on them to make them targets for criminals. Airports tackle this problem with state-of-the-art intrusion systems, video surveillance and item tagging.
When it comes to retail operations, airport retail stores tend to sell higher value products than railway stations – think high value electronics and designer clothes and perfumes, rather than high street fashions, take-out food outlets and convenience supermarkets. However, retail theft is still an issue. To combat the problem in airports, specific retail theft strategies such as video surveillance and electronic tagging of items have been put in place. Again, security installers can advise railway stations to profit from various technical solutions, from CCTV to other security solutions designed for the retail industry like security tags.
This article was provided by Accent On Security.