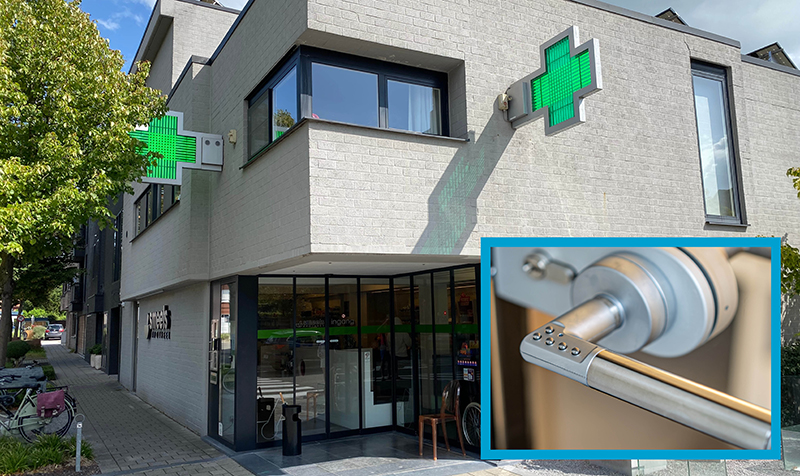 In many small businesses, the task of handing out and tracking keys can be laborious and time-consuming. In addition, because mechanical locking requires a keyholder (or keyholders) to be present, staff absences or vacations cause a problem — including unnecessary waiting around for an important door to be opened. A simple, familiar solution is offered when businesses make a simple switch to digital PIN locking.
"We had a door with a classic lock and key," explains Tom Smeets, owner of family-run Smeets Pharmacy in Lint, near Antwerp. "But seven of us were working here, it was really complicated."
Tom sought a digital approach to access that was an efficient replacement for mechanical lock-and-key security. The aim was to provide his pharmacy staff with more convenient door security which would do away with any need for them to hang around waiting for a keyholder, which can waste valuable time and money for the business.
The solution had to be easy to operate as a small business like Smeets Pharmacy does not employ a security manager or access control specialist.
To replace the existing lock, Tom Smeets selected Assa Abloy's Code Handle Door Lock. This device looks and works just like any other door handle but incorporates digital PIN security inside. Doors equipped with Code Handle unlock with up to nine different 4- to 6-digit PINs; all staff have their own. Anyone's PIN can be cancelled or changed anytime.
The device fits onto an existing standard locking cylinder and is fixed in place with two screws. There's no wiring and no software. Power comes from long-lasting standard batteries. For users, a Code Handle is convenient as they just push the buttons to enter their PIN and work the handle as normal. It's all familiar, but with no need for anyone to carry keys, keycards or any other credential.
It doesn't matter if a keyholder is on leave, sick or just late. Everyone gets in as soon as they need by inputting their personalised PIN.
"There's no longer any problem with the key as before," says Tom Smeets. "Of course, I am very satisfied."