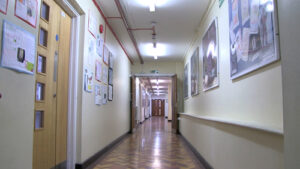 When facilities managers at the Campion School in Hornchurch, Essex realised that its life safety system would benefit from being upgraded, the team consulted local fire protection systems supplier, Fisk Group.
There were a number of factors to consider when selecting a new system for the School. As well as enhanced efficiency and reduced running costs, the system also needed to offer networking capability without compromising the overall aesthetics of the site.
Fisk Group opted to use Hochiki Europe's FIREscape+ combined fire detection and emergency lighting system, which has the added benefit of wayfinding technology.
Unlike traditional emergency lighting systems that require 230V to each unit, FIREscape+ units only require 40V and therefore do not need to be wired by a qualified electrician. The system is also designed to run via a single panel, and each loop combines both fire detection and emergency lighting units.
Speaking about the project, David Brant, Contract Manager at Fisk Group noted: "Operating from a loop-based system, all units could be installed to the same bases, meaning we were able to complete the job quickly and efficiently. The system met the brief perfectly, being energy efficient, durable and aesthetically appealing. Also, the wayfinding function is an ideal added bonus."
Chris Connor, Site Manager at the Campion School added: "FIREscape+ is now actively helping us reduce our costs with regards to emergency lighting, while also giving us the reliable protection we need. It's easy to use as well, which helps us cut down on maintenance and monitoring processes."
[youtube height="350″ width="600″]http://www.youtube.com/watch?v=bAHD6k0SDSo[/youtube]