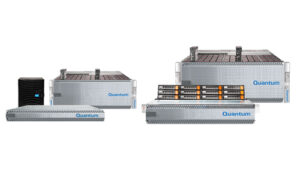 Quantum's new line of Network Video Recording (NVR) servers complement the company's VS-HCI Series and are offered in both mini-tower and rack-mounted form factors to provide customers with a range of affordable, reliable, and high-performance options for surveillance recording and video management. Quantum's VST mini-tower NVRs are designed to support the surveillance of retail stores, gas stations, small buildings and campuses, and other small implementations, while Quantum's VS4160 NVR is one of the most dense and highest capacity NVRs available for environments with large retention requirements.
To support the extreme graphics processing and parallel workload demands of video analytics, Quantum has introduced the VS2108-A analytics server. The VS2108-A can be configured with up to six GPUs in a compact 2U chassis and will accelerate results with leading video analytics software platforms. For access control and building management applications that require a highly available architecture, Quantum is introducing a new highly available application server, the VS1110-A.  Quantum's new VS1110-A Enterprise application server utilizes the same virtual machine (VM) failover capability found in Quantum's VS-HCI series. Like the VS-HCI series, the VS1110-A server can be monitored remotely via a secure web-based portal, enabling facilities managers, integrators and Quantum support to proactively monitor the system.
Quantum has enhanced the capabilities of the VS-HCI series with secure, remote monitoring via a web-based portal. The Quantum VS-HCI series provides hyperconverged infrastructure for surveillance recording, video management, and building operations. The highly available architecture scales out as video camera counts increase and makes it easy to manage operations by running multiple physical security workloads on a single platform.