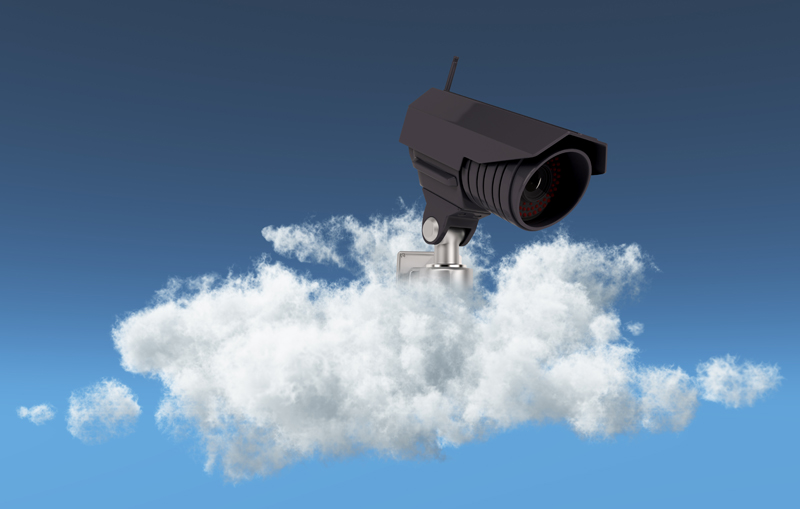 Caroline Cooper of Norbain reveals to PSI why installers and end users need to take another look at cloud solutions and technology in 2021
Like many 'new' or innovative ways of managing our lives, the 2020 pandemic and resulting remote working and living has catapulted cloud architecture to centre stage in our consciousness. What it allows us to do is not just store our data but access services from wherever we choose to connect.
2020 accelerated the acceptance of cloud-based solutions in our personal lives with the use of video conferencing exploding to keep us connected. We signed up for music services to store and download our playlists, TV and video subscriptions along with a massive increase in gaming subscriptions. We also saw a further uplift in the use of online banking and communication tools. Whilst furloughed or during the long evenings and weekends, we suddenly had time to sort out photographs and documents and upload those to cloud storage solutions too.
In the security industry, again consumer trends have led the way and smart home technology has grown in popularity as consumers demand more from their security systems – with control and convenience playing an increasingly important role.
For installers, of course, this offers several benefits – reduced installation time, complexity and cost along with the ability to carry out much of the maintenance and management of such systems remotely.
Previously, the costs may have prohibited us from considering the cloud for our storage needs but now, with a rising number of suppliers offering these, costs have dropped at the same time as connectivity increasing. Add to this the trend towards reducing our physical clutter and suddenly you've got the perfect blend of components to facilitate a step change in how we manage our lives.
And so it is for businesses too, who now need to take seriously cloud architecture for both storage of their data requirements – including video – and for the flexibility it provides in allowing access to data and services from remote locations. There's also a huge advantage to be had in the increased management functionality available. It is not the cloud itself that is of interest to us – it is the services available as a result.
To date, we have only seen the cloud used in smaller systems for CCTV and/or access control due to restrictions in broadband upload. However, with rapid deployment of faster broadband services, the security industry has seen a spike in requests for cloud storage to support much larger systems.
In this article, I will specifically address how your security system(s) can benefit from incorporating a cloud storage solution, but many of the advantages we outline can be replicated across multiple business operations.
For example, this technology can help retailers ensure the safety and security of their premises as well as meeting operational goals. It effectively moves the spend from security to intelligence, providing key insights such as measuring retail occupancy and differentiating the management team's ability to make informed decisions.
It's the same for access control solutions, where we can identify many advantages of using cloud-enabled solutions. An organisation can maintain access control hardware onsite but run the supporting software in a remote data centre. This means the organisation can pay for services as needed (via a subscription model), taking advantage of all the latest updates.
Any upgrades to access control solutions – such as the growing importance of biometric solutions – can now be readily made because the architecture and performance of the cloud-enabled system is in place. This also opens up the ability to embrace mobile access and credentialling via smart phones in addition to supporting conventional access control methods.
Let's consider first how the architecture of a company's video and/or access control management system will change once a cloud solution is adopted: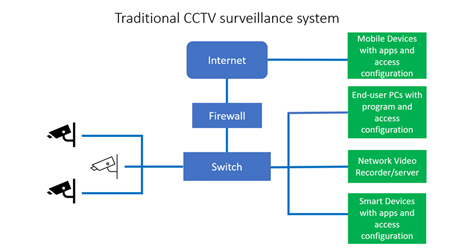 In a traditional system, there are several, or perhaps multiple, cameras on each site connecting to a switch. These are fed into your network attached storage – for example, an NVR or DVR – to store your recordings. A PC connected to the storage unit(s) is required to play back CCTV footage or video recordings. If you want to watch from elsewhere, a firewall must be installed in front of the internet connection at both sides to provide adequate cyber security.
In the cloud system, the set-up is simplified considerably. Of course, there are still the same number of CCTV cameras connected to your switch. After that though, there is no other hardware other than the 'bridge' which provides you with your cyber security into and out of the cloud. In the cloud all your recordings are stored, or you can access any camera in real time and watch live footage. You can log in and view from any PC or device.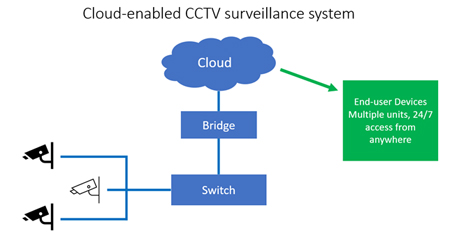 So it's apparent that there are several advantages of a cloud-based model:
Cost Management Advantages: This applies to hardware, software and upfront configuration costs. With a service-based cloud solution, your initial outlay is reduced, and you can scale up or down as your requirements change. In addition, there's no need for huge up-front financial commitments because you only pay for the processing and storage resources you are using. This also provides a forecasting structure for ongoing costs because the contracts are normally set up as a subscription.
Accessibility: You can do everything you did before in a traditional system but, in addition, you can also connect into the cloud and view your data – live or recorded – from multiple touchpoints. And you can stream everything directly to whatever device you desire, whether that's onto a smart phone for responding to an alert, or a tabletop workstation to analyse reports.
You can also have multiple users accessing the cloud solution simultaneously, opening a wealth of possibilities for larger organisations.
No specialist IT support required: Whilst set up is carried out by a specialist partner, there's far less ongoing maintenance (with no server or local VMS requirement) and no specialist IT knowledge is needed to manage such a solution. An organisation doesn't need to maintain the technology itself, so this element of risk is removed (offering further cost savings here too).
Scalability: This has been mentioned above, but it is important to pull it out separately as it is such a key feature of cloud storage. In essence, as the needs of your business change, you can adapt your usage.
Many of the cloud solutions available allow a 'plug n play' approach. This also means an end user can potentially dip their toe into the water and carry out a phased approach to adopting a cloud solution, perhaps starting with the most important cameras first before shifting everything over to the new technology.
Flexibility: Cloud based systems enable remote access from any device, anytime, anywhere. This boosts security efforts and reduces response times to potential threats. In a traditional system, security can typically only be controlled onsite or through a pre-configured specific piece of hardware.
Servicing benefits/usability: Another advantage of a cloud-based security solution is the ability to incorporate different systems and data feeds into one platform – e.g. CCTV, access control and intruder. This simplifies things for both security professionals and business management.
And the technology is compatible through ONVIF, meaning legacy systems can be brought on board, so there's often no need to replace your existing infrastructure.
Visibility: Using one platform to view data from multiple sources connects security operations and offers a holistic view of your data. This means you can start to access real business insights and act accordingly. The solution helps you to identify weaknesses which can then be mitigated proactively.
Adaptability: Cloud based solutions provide ongoing software updates, covering security, features and much more, carried out simultaneously across all connected systems without any manual intervention to update servers. This makes the cloud highly versatile in adapting to changing threats and the requirements of clients.
Security: Cyber security is of paramount importance to those providers offering cloud storage solutions. Such platforms offer ongoing updates, both of new features and resolutions to identified vulnerabilities. These are rolled out directly, ensuring data collected, transferred, and deposited via the cloud is as safe and secure as possible.
Practical examples
Let's take the example of a UK business that runs activity centres, who recently benefited from integrating CCTV cameras across all their locations into a single cloud-based solution. This enabled the business to manage its entire CCTV network from anywhere, at any time and on any device. They also benefited from tailored secure access – senior management had a complete overview whilst individual site managers accessed only their centre.
In addition to the savings on hardware, software and configuration, along with ongoing maintenance, the business was able to monitor and manage customer flow around each centre to understand footfall. They could then make better informed business decisions.
And it helped to satisfy insurers and reduce insurance costs because full coverage CCTV footage of a high standard was provided for all the businesses' locations.
Conclusion
Collectively, the advantages of cloud storage set businesses up for success. By allowing key data to be effortlessly collected, managed and evaluated, the solution can provide you with better business insights, all with less equipment on site, no security staff to manage and reduced maintenance costs.
These agile and dynamic cloud-based solutions herald new opportunities, providing access to your video management and access control systems conveniently and securely, wherever and whenever you want. You can manage all your cameras and users easily and efficiently along with access points, from your preferred device.
Where, until very recently, many in the security industry saw unacceptable risk and too much fluffiness to merit serious consideration of cloud-based systems, we now find that it is time to take seriously the myriad of benefits on offer or chance being left behind in our business practices.
Caroline Cooper is the Content Marketing Manager at Norbain SD