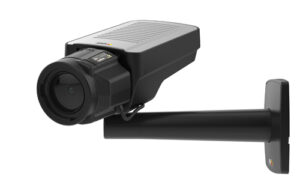 Axis Communications has introduced its first IP cameras featuring i-CS lens, technology as a result of a joint development between Axis Communications and the lens manufacturer Computar (CBC Group). The new lens directly exchange information such as its geometrical distortion and the exact position of its zoom, focus and iris opening.
"In the past, CS-mount cameras had no information about what type of lens was mounted on them making it necessary to manually fine-tune lens and camera settings for optimal results," says Andres Vigren, Global Product Manager, Axis Communications. "The new i-CS lens technology is based on an open protocol standard allowing lens and camera to exchange information. The installer can remotely both set the focal length and focus the camera. All in all, this makes installation quick, easy and time-saving."
Thanks to several motors inside the i-CS lens, both zoom, focus and iris opening can be remotely adjusted. Furthermore, the exchange of information between the i-CS lens and the camera enables easier setup of Electronic Image Stabilisation (EIS) and Barrel Distortion Correction (BDC). This reduces the time needed for setup and enables easy installation.
Axis Q1615/-E Mk II feature scene profiles enabling the installer to select between Traffic overview, Forensic or Live profile. When choosing one of the preset scene profiles, the cameras automatically adjust exposure time, white balance, aperture, sharpness, contrast and noise. The new fixed cameras can provide HDTV 1080p video at frame rates of up to 50/60 fps or HDTV 720p video at frame rates of up to 100/120 fps.
The indoor AXIS Q1615 Mk II and the outdoor AXIS Q1615-E Mk II are planned to be available in Q3 2016 through Axis distribution channels.