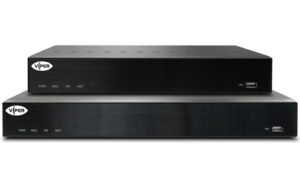 Vista has announced the release of Viper, a new range of standalone IP ethernet network video recorders, capable of recording up to 5MP resolution cameras.
The simple menus allow the installer to set up all the features for the entire VK2 camera range direct from the NVR's OSD menu, without the need for a laptop or PC. The range includes 4, 8 and 16 channel options with a maximum of 16Tb of internal storage to fulfil the majority of applications.
The Viper allows real time recording at 3MP and includes an in-built Gigabit PoE switch. It also has a PoE port for each camera channel. This means that there is no need for an additional PSU to power the cameras which can greatly simplify installation.
Key features include:
3MP resolution for real time recording
Compatible with new VK2-5MP360INT fisheye camera
EPoS compatibility
Compatible with in-built video analytics of the VK2 camera range
Can be used with Vista VIPERKB USB keyboard
Bob Forehand, Vista Product Manager comments: "We are extremely excited to launch this new range. It combines a highly featured standalone NVR with the ability to record up to 5MP cameras. Vista's new 5MP fisheye camera can be recorded onto Viper with dewarping of live and recorded images using the client software. It is also compatible with in built video analytics of the Vista VK2 camera range."