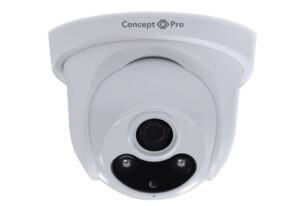 Videcon has introduced the CVP9314DNIR-IP4M and CVP9314DNIR-AHD fixed-lens turret cameras. Both cameras have a  2.8mm fixed lens and up to 50m infrared range through a single IR LED offering a resolution up to 1080p on AHD and 4 megapixel resolution on IP.
The IP version of the camera offers triple streaming, allowing each stream to be set for different purposes such as live-viewing on the NVR, full resolution recording, and another as an optimised stream for remote viewing on mobile apps.
Steve Newsome, Sales Director of Videcon, said about the cameras: "Both IP and AHD versions of the CVP9314DNIR turret camera continues our expansion of our extensive Concept Pro camera ranges. In total the Concept Pro brand offers over 120 cameras across IP, AHD and traditional analogue platforms."
Key to the Concept Pro ethos, all IP, AHD and analogue variant of a particular model of camera are designed to look, mount and set up as near as possible to one another, ensuring quick install-times when upgrading cameras.