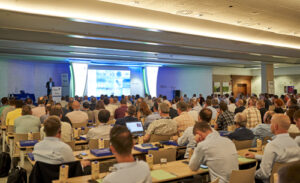 The delegates who attended the recent Tyco Engage Conference 2019 saw how Tyco, the security products division of Johnson Controls, can help system integrators grow their businesses by developing solutions which capitalise on emerging technologies.
'Beyond Security' was the central theme of the conference held at the Melia Villaitana Hotel, Costa Blanca, Spain, which began with delegates being welcomed by Alan Riegler, Senior Sales Director EMEA, Access & Video.
"We were delighted so many of our customers throughout EMEA accepted our invitation to attend this inaugural event," said Alan Riegler.
Day One of the conference included a range of presentations covering key aspects of Tyco branded access control, fire detection, intrusion and video surveillance solutions. Day Two enabled delegates to attend more in-depth presentations, as well as see live demonstrations of various solutions carried out in the Tyco Mobile Exhibition Unit, which was parked in the centre of the hotel complex.
Presentations on the company's ongoing commitment to its Cyber Solutions Product Security Program, as well as the Tyco Cloud and Drone solutions, were among the various sessions which attracted considerable interest from the delegates. Live demonstrations of the new Tyco Frictionless access control solution were also well attended. Due to be launched at the end of 2019, this uses face identification technology to control access to restricted areas of a building.