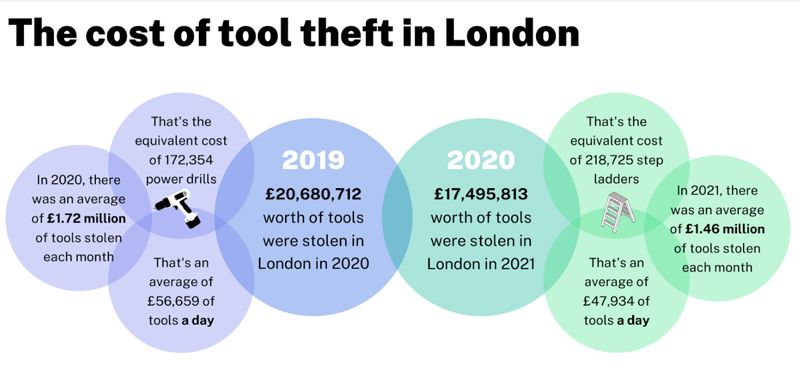 Metropolitan Police data has revealed that only 1% of stolen powered hand tools are ever recovered, costing tradesmen in London more than £38 million in the last two years, and £17.5 million in 2020 alone.
New data shows there were 28,338 tool thefts reported across London from 2019 up to May 2021 this year. Barnet, Enfield, Ealing, Waltham Forest and Haringey are the five boroughs where figures were highest, with thefts in Barnet (1,917) accounting for nearly 15% of the total.
By contrast, Merton (475), Richmond upon Thames (439), Hammersmith and Fulham (371), Kensington and Chelsea (371) and Kingston upon Thames (327) suffered the fewest reports.
The findings, collated by Herts Tools, come from a freedom of information request to the Metropolitan Police. The data reveals the impact of tool theft on livelihoods, the cost of the crime and the most affected areas in London.
Thieves are ten times more likely to steal powered hand tools than non-powered hand tools, with 32,067 taken from 2019 to 2021, compared to 2,993 non-powered hand tools. 1,942 garden tools were stolen in the same period.
Year on year, the cost of tool theft is falling: it dropped from £20.7 million in 2019 to £17.5 million in 2020, a decrease of 15%. However, the average cost of tool theft per month, so far in 2021, is still £1.46 million.
Stefano Lobban, Director at Herts Tools, said: "It's been a tough couple of years for tradesmen with Covid-19 really restricting their ability to work. The last thing they need is their tools being stolen, but this new data shows us just how common that reality is, particularly in London. Unfortunately, thieves are often attracted to high-price items like powered hand tools. Of course, when these items are stolen, it's even harder for tradesmen to replace them due to the high cost. We just hope people take these new figures as a warning and make sure they're vigilant."