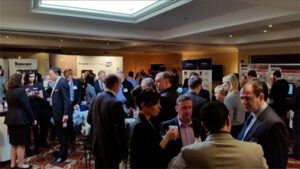 Following the success of the NSI's second Installer Summit held in Manchester in November it has been announced that the next event will take place in Birmingham on 10th March 2015.
The event showcases an array of security brands, industry experts and business solutions providers and offers delegates a perfect platform to learn about the latest innovations within the industry – including new products and solutions, equipment and tools – and of course the latest news from NSI and a chance to meet the team behind PSI magazine.
The Summit's programme of bite-sized seminar sessions are delivered by industry experts. The second Summit included presentations such as the importance of integrity and performance through the buying chain (CSL DualCom – Simon Banks); the value apprenticeships can bring to a business (Kings Security – Anthony King); the do's and don'ts of social media (IFSEC Global – Tristan Norman); Google marketing (NVisage – Clinton Porter); employment law tips (Citation – Louise Lockett); funding for capital growth (Baker Tilly -Rob Donaldson); the myths of cloud security (RISCO – Steve Riley). In addition, an update from ACPO was delivered on the reduction of false alarms due to improving technology.
NSI Chief Executive, Richard Jenkins, commented: "Following the success of the first NSI Installer Summit in Birmingham in March, we listened to our installers and brought the event to Manchester.  The NSI Installer Summit is a truly unique event for our approved companies, providing them with the opportunity to network, get up close to the latest products from the leading manufacturers, hear first hand from NSI technical experts about developments in Standards and to be given business solution advice from a number of business-related specialists.  We believe the Installer Summit adds real value to the NSI community ensuring NSI approved installers are well informed about developments that impact their industry and their businesses.  With the exceptionally positive feedback we have received from both events, we are delighted to announce our next Installer Summit."