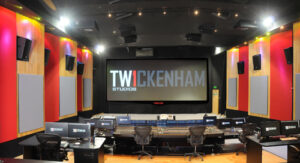 Samsung Techwin video surveillance technology is helping create a safe and secure environment for all who work on a site which first opened to the world of film in 1913. Situated in South West London, Twickenham Studios offers a bespoke service to all media, including film and television.
Despite working on films, such as 'The Others', 'Best Exotic Marigold Hotel' and 'The Iron Lady', the Studios went into administration and in 2012 seemed destined for demolition. However, following a successful Save Twickenham Studios' campaign, the site was purchased by British businessman and property magnate Sunny Vohra, who quickly implemented a multi-million pound plan to modernise and re-equip the Studios.
With the need to ensure that valuable production equipment and other assets will not be an easy target to would-be thieves, Carl Childs, Head of Engineering for Twickenham Studios was tasked to source a video surveillance system that would allow the monitoring of all activity throughout the studio. "The cost implications of having to replace equipment can be significant, but equally important was the need to safeguard against any disruption to film production and to verify 100% compliance with the Studio's strict health and safety procedures."
With the assistance of Aray Architects, a tender process resulted in Securebase being awarded the contract to install a 28 camera IP network based system.
Dariush Hekmat, Director of Securebase said: "We needed to install and commission the system within one week. Our ability to complete the project on time was enhanced by Twickenham Studio's engineering department overseeing the professional installation of an IP network infrastructure before we arrived on site. With the Samsung Techwin featuring POE (Power over Ethernet), installation time was further reduced as this negated the need to install power points at each camera location."
27 of the installed cameras, which are equipped with Samsung Techwin's Open Platform WiseNetIII DSP chipsets, are capable of capturing 2MP Full HD (1080P) images when the lighting level is as low as 0.01 Lux and have a frame rate of 60fps which results in latency free clear images. Thirteen of these cameras are SNO-6084R weather resistant bullet cameras, 10 are SNV-6084R vandal resistant dome cameras and 4 are SND-6084R internal dome cameras. All are day/night cameras with motorised varifocal lens and have built in IR LED illuminators.
An SNF-7010 360-degree 3 megapixel camera has also been installed at a specific location at the Studio where a large number of standard cameras would normally be required to monitor such a large area without any blind spots.
The images from all 28 cameras are simultaneously recorded on a Samsung Techwin SRN-1000 network video recorder which has 12 terabyte on-board storage capacity, enabling Carl and other authorised personnel, to quickly retrieve recorded video evidence of any suspicious activity.
"By investing in a future proof IP network based video surveillance system that can be expanded at any time if our requirements change, we have put in place a highly effective tool which should help us to protect our assets and maintain a welcoming, as well as safe environment, for many years to come for everyone who visits or works at the Studios," said Carl.